Jungle Cruise Star Talks Dwayne Johnson's Amazing Iron Paradise, But They All Actually Worked Out A Whole Lot Less For Disney Movie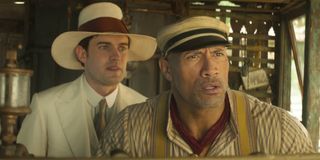 CinemaBlend participates in affiliate programs with various companies. We may earn a commission when you click on or make purchases via links.
There are probably many benefits to starring in a movie with Dwayne Johnson. Obviously, the first is that you get to have Johnson as your co-star. But another plus is that you might pick up some excellent workout tips. Just ask his co-star Jack Whitehall, who had a chance to see Iron Paradise in all its glory while filming Jungle Cruise. The actor opened up about what it was like to work out with The Rock and admitted that, all things considered, they didn't actually hit the gym all that much.
It goes without saying that Dwayne Johnson is unwaveringly committed to his fitness. The actor even shared regular updates from his personal gym all through the worst of the COVID-19 pandemic last year. He makes sure he has a set-up everywhere he goes, so he can keep working out even when he's working. So, of course, he brought Iron Paradise with him when he was filming Jungle Cruise -- even if it meant a slightly altered workout routine, as his co-star Jack Whitehall told Comicbook.com:
Three hours a day in the gym is still three hours more than many of us spend, so that may not seem like a big change. Still, it sounds like both Dwayne Johnson, who plays the pun-ny skipper Frank Wolff and Jack Whitehall, who plays Dr. Lily Houghton's (Emily Blunt) brother MacGregor, were very mindful of how they needed to appear in order for Jungle Cruise to be believable
Despite scaling back to play Frank, Dwayne Johnson has been hitting Iron Paradise especially hard as he prepares for Black Adam, which will premiere on July 29, 2022. And while you wait for the DC Comics epic to hit cinemas, you can check out Jungle Cruise, which is currently playing in theaters and streaming on Disney+, which you can sign up for using this link (opens in new tab).
Your Daily Blend of Entertainment News
Thank you for signing up to CinemaBlend. You will receive a verification email shortly.
There was a problem. Please refresh the page and try again.