Jungle Cruise's Paul Giamatti Reveals The Idea He Had For The Movie That (Obviously) Got Shot Down By Disney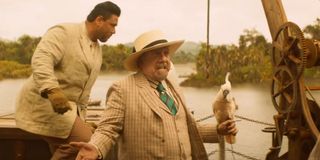 CinemaBlend participates in affiliate programs with various companies. We may earn a commission when you click on or make purchases via links.
Dwayne Johnson and Emily Blunts Jungle Cruise releases in theaters and on streaming on July 30th. Dwayne Johnson has celebrated the movie's upcoming release on Disney+ giving fans a new look at the film-- which is shaping up to be an exciting time at the theater or at home. Disney has been showing off some of its action sequences, hyping up the insane sequences Emily Blunt and The Rock are a part of. Now, Jungle Cruise's Paul Giamatti reveals his idea for the movie that (obviously) got shot down by Disney.
Giamatti plays Nilo, an old harbormaster that manages the port where Dwayne Johnson's character docks his boat. Paul Giamatti is one of many stars that will be appealing in Jungle Cruise, and it seems he was not shy about sharing some suggestions while making the film. He spoke to Men's Health about various projects and the upcoming Jungle Cruise, and he explained an idea he had for the movie, saying:
Paul Giamatti describes the bird that is on his arm in the promotional trailers and what his character is up to in Jungle Cruise. Giamatti says that there wasn't really a character when he was presented with doing Jungle Cruise, saying that Disney asked him to come in and do something with no real concrete grasp on what the character was so there was room for input. The blank slate he had to work with inspired the actor to experiment and share some of his ideas for the character. Giamatti went on to explain:
Paul Giamatti says he originally wanted a monkey as his companion instead of a parrot. Giamatti says he wanted a monkey that would light his character's cigars, but he recognized that it's a Disney movie, so he wouldn't be allowed to smoke cigars. He also adds that monkeys are difficult to deal with, so having a monkey companion was turned down. They ultimately decided on a bird as his companion, which Giamatti was happy with.
Jungle Cruise is expected to hit Disney+ at the same time as theaters. You can use this link to sign up for the streaming service.
Jungle Cruise looks super fun and has some serious Pirates of the Caribbean vibes, giving fans hope that the pirate franchise might return in some form one day. Dwayne Johnson has done some heavy Disney research to prepare for his role as Frank the boat Captain, and it would be interesting to hear what ideas The Rock had for his character that Disney shot down.
Emily Blunt and The Rock have been having fun prompting Jungle Cruise, trolling each other with their dueling trailers for their respective characters. Dwayne Johnson has even been trolling Disney over Emily Blunt's Jungle Cruise video announcing her new trailer. If they have half the fun they are having in real life in the film, then Jungle Cruise is in great shape.
Movie and TV obsessive. A good Heist movie is the way to my heart. Enjoyer of everything from Marvel Movies to Rom-coms.
Your Daily Blend of Entertainment News
Thank you for signing up to CinemaBlend. You will receive a verification email shortly.
There was a problem. Please refresh the page and try again.