Vivo Voice Cast: Where You've Seen And Heard The Actors Before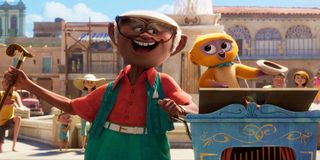 Netflix has been delivering some amazing hits the last couple of years in terms of animated films. From the family movie The Mitchells vs. The Machines to the Academy-Award-nominated musical, Over the Moon, they've had some awesome additions to their already amazing line-up. And now, a new film joins that group, titled Vivo.
In Vivo, we follow a kinkajou, played by the amazing Lin-Manuel Miranda, who plays music to crowds in a lively square with his owner, Andres. However, when Andres expresses his interest in a long-lost love, Vivo takes it upon himself to try and reunite the star-crossed lovers once more. There are plenty of stars in the Vivo cast, from Zoe Saldana and Michael Rooker to musical geniuses, such as Gloria Estefan. Here is where you might have seen them (or heard them) before Vivo.
Lin-Manuel Miranda (Vivo)
Everyone loves Vivo, and the man behind him is the wonderful Lin-Manuel Miranda. If you haven't heard his name yet in the media, I'm sure you've been living under a rock, because he's been taking over Hollywood – at least in the musical sense. Prior to his breakout in film, Lin-Manuel Miranda rocked the streets of Broadway, creating two major hits – In the Heights and Hamilton: An American Musical.
Both of these hits actually ended up on the big screen in some form or another - Hamilton premiered on Disney+ as a live-stage recording, while In the Heights adapted for film and released in 2021, starring Anthony Ramos, Melissa Barrera, and more, and Lin-Manuel Miranda had a part in both musicals. Besides his big-Broadway escapades, Lin-Manuel Miranda has done plenty. He had a role in Mary Poppins Returns as Jack, and wrote music and lyrics for the Disney animated film, Moana. He's even hosted Saturday Night Live prior to his role in this film.
It's not a surprise that Miranda is returning once again to his musical roots, this time through voice-acting and song-writing, with how fantastic his musicals have been in the past. And I'm sure after watching Vivo, you can't get those songs out of your head either.
Ynairaly Simo (Gabi)
While this cast is also full of stars in both the acting and musical world, we have a newcomer here as well. Gabi, the lovable partner to Vivo throughout the entirety of Vivo, is played by Ynairaly Simo, a young actress who's just starting to make her mark.
While she did have a small role in a TV series titled Creative Galaxy back in 2014 where she played herself, this is her first major role in the Hollywood world. And hopefully, after playing Gabi in Vivo, we'll be seeing a lot more of her soon.
Zoe Saldana (Rosa)
Every adorkable little kid needs an equally worried mother, and that's where Rosa comes in, portrayed by Zoe Saldana. Saldana herself has been in some of the biggest movies of all time – even if she doesn't quite look like herself in those films. Since 2014, Zoe Saldana has portrayed Gamora in the Marvel Cinematic Universe, a role that started with Guardians of the Galaxy. Also in 2009, Saldana portrayed Neytiri in Avatar, one of the highest-grossing films of all time, a role which she will reprise in the upcoming sequels – whenever they do release.
Besides her roles in these films, she's also had roles in other movies series as well, such as the Star Trek film series, where she portrayed Nyota Uhurua. Zoe Saldana also dabbled with pirate adventures for a bit, with a role in Pirates of the Caribbean: The Curse of the Black Pearl.
The year after that, she would go on to have a role in the Steven Spielberg film, The Terminal. She's even been in the voice world prior to Vivo, with a role in the 2014 animated film, The Book of Life, as Maria Posada.
Truly, Zoe Saldana has been all over, and I for one can't wait to see what she does next. Now, if only Avatar 2 could release, dang it.
Juan de Marcos Gonzalez (Andres)
As the owner of Vivo in Vivo, Andres is a kind and caring older man who loves music, and wants to reunite with his past partner/love of his life, Marta. Playing Andres is Juan de Marcos Gonzalez, who is likely better known as a Cuban musician than he is an actor.
Vivo is his first acting credit ever, but Gonzalez has been in the music industry for decades. He's been a Cuban bandleader and musician, who was part of the Buena Vista Social Club, an ensemble of Cuban musicians that was established in 1996. With someone as musically talented as him, it's not a surprise that he'd land a role in Vivo. And honestly, I can't think of anyone better.
Michael Rooker (Lutadoor)
Moving back to actors on this list, we take a look at Lutadoor, an evil python in Vivo that lives to make the Vivo's life difficult. Michael Rooker portrays Lutadoor in Vivo. The actor, with a career that spans back to the '80s, has been around Hollywood for some time. He started off his acting career with several roles in movies, such as the crime film Henry: Portrait of a Serial Killer, the sports film, Eight Men Out, the political thriller, JFK, the crime thriller film, The Bone Collector, and several others.
From 2010-2013, Michael Rooker portrayed Merle Dixon in AMC's The Walking Dead, before moving over to the Marvel Cinematic Universe, where he portrayed Yondu in the Guardian's of the Galaxy franchise. Most recently, he's had a role in the 2020 monster/romance film, Love and Monsters, and will have a role in The Suicide Squad as Brian Durlin/Savant.
Brian Tyree Henry (Dancarino)
As the first half of the star-crossed spoonbills in Vivo, Brian Tyree Henry portrays Dancarino. Henry hasn't been in the industry for as long as some of his other co-stars, with his earliest film/tv credit being a guest spot on Law and Order in 2009, but boy has he had a career since then. Since 2016, Brian Tyree Henry has had a main role on the FX comedy series, Atlanta, alongside creator Donald Glover, a role he will reprise in the upcoming third season. He also had a guest spot on the This Is Us episode, "Memphis" in Season 1 of the show, and has been on a couple of episodes of Drunk History.
In terms of film, Henry has done several films in plenty of different genres. He portrayed Jamal Manning in the heist thriller, Widows, Daniel Carty in the Academy-Award-nominated film, If Beale Street Could Talk, Jefferson Davis in the Academy-Award-winner film, Spider-Man: Into the Spider-Verse, Detective Mike Norris in Child's Play, Carl in Joker, Bernie Hayes in Godzilla vs Kong, and so many others.
He's also going to be starring as Phastos in the upcoming Marvel film, Eternals.
Jeez, talk about someone who has made his mark on Hollywood. I'm not surprised he scored a role in Vivo, and I can't wait to see where he goes from here.
Nicole Byer (Valentina)
Valentina is the other-half of the star-crossed spoonbills on Vivo, and Nicole Byer is the lucky woman to play her. Byer, who got her start through her amazing comedy, has been the host of Nailed It!, a Netflix reality bake-off series where average bakers try to recreate amazing baking creations, a show that was nominated for a Primetime Emmy Award.
Other than her amazing hosting talents and hysterical jokes, Byer has also had a couple of roles in the film/TV world. She starred in the commentary series, Girl Code, and then went on to be in Loosely Exactly Nicole, an MTV/Facebook Watch comedy series based on her life. Other than that, she's made several guest appearances on television, including parts on 30 Rock, the Amazon original series, Transparent, the iconic animated series, The Simpsons, and more.
Recently, Byer has taken up co-hosting Wipeout, alongside John Cena, so keep an eye out for her the next time you're catching up on your competition shows.
Gloria Estefan (Marta Sandoval)
Oh, Marta. We love Marta. As the wonderful other-half to Andres in Vivo, Marta is played by the wonderful Gloria Estefan, whom is another case of musician-over-actor. Gloria Estefan is a famous Cuban-American singer and songwriter, with a career that spans back to the 1970s, with several hits that have become popular all over the world.
However, besides her amazing music, Estefan has dipped her toes into the acting world several times before. She portrayed the mother of Santana Lopez in Glee, and also appeared in a guest role on the Netflix original series, One Day at a Time. Besides guest appearances, she's also had plenty of cameos as well, including roles on Jane the Virgin, Fraser, Blue's Clues, and so many others. If you haven't given her music a listen to, check her out now. You won't regret it.
Katie Lowes, Olivia Trujillo, And Lidya Jewett (Scout Troopers)
While their roles in the film isn't as big as the others here, the Scout Troopers are still adorable, played by Katie Lowes, Olivia Trujillo, and Lidya Jewett. Katie Lowes is best known for her role on ABC political drama, Scandal, and had voice roles in Wreck-It Ralph, and its sequel, along with Zootopia and Big Hero 6.
Olivia Trujillo has been on the TV series For All Mankind, as well as some guest appearances on other shows such as Drunk History, #Realityhigh, and others.
Lidya Jewett had a major role on the series Good Girls as Sara Hill, alongside other guest appearances on shows such as Bunk'd, Grey's Anatomy, See Dad Run, and more. She also portrayed Young Katherine Coleman in the film Hidden Figures in 2016.
With all these big-time stars in Vivo, it's a welcome addition to the 2021 Netflix movies. Who were you excited to see in this amazing animated film?
Big nerd and lover of Game of Thrones/A Song of Ice and Fire. Will forever hate season eight. Superhero and horror geek. And please don't debate me on The Last of Us 2, it was amazing!
Your Daily Blend of Entertainment News
Thank you for signing up to CinemaBlend. You will receive a verification email shortly.
There was a problem. Please refresh the page and try again.