Blue Beetle: What You Need To Know About Jaime Reyes From DC Comics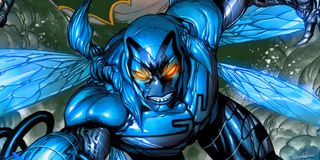 CinemaBlend participates in affiliate programs with various companies. We may earn a commission when you click on or make purchases via links.
It is a good time to be a DC Comics character, especially one who has never had any superhero movies of their own before. Shortly after the long-awaited Batgirl movie was confirmed as an HBO Max exclusive, the same destiny was given to another film about a young vigilante named Jaime Reyes (better known as the Blue Beetle), which will star 20-year-old Cobra Kai cast member Xolo Maridueña in the title role.
Before this exciting new title in the DC movies canon makes its debut, how about we get to know the Blue Beetle a little bit better with the following facts ripped straight from the comics, starting with how he got his powers… and his name.
Alien Technology Turned Jaime Reyes Into The Blue Beetle
Created by veteran comic book writer Keith Giffen, television writer John Rogers, and artist Cully Hamner, Jaime Reyes made his DC Comics debut as Blue Beetle in the third issue of the Infinite Crisis crossover event in February 2006. Originally a normal teenager from El Paso, Texas, Reyes became a superhero when his spine became fused with a powerful device created by an alien race called The Reach that is shaped like a blue scarab, hence the name "Blue Beetle" (not that he was bitten by an insect of that description, like how Peter Parker became Spider-Man).
The reveal that Reyes' blue scarab was made by extra-terrestrials was actually a retcon, as this technology had already in existed in DC Comics when the original iteration of this superhero was first introduced.
Jaime Reyes Is The Third Blue Beetle
Jaime Reyes is the current Blue Beetle, with the moniker previously held by Ted Kord (originally from Charlton Comics in 1966 before DC acquired it), who was a vigilante more like Batman who used his own athleticism and self-built weaponry to fight crime in a bug-eyed blue costume due to his lack of powers. This is because the very first Blue Beetle, Dan Garrett (originally from Fox Comics in 1940 before Charlton acquired it) was unable to pass on the powers he gained from the blue scarab - then written as a magical Egyptian artifact.
Actually, before then, the original source of Garrett's powers was a drug called "Vitamin 2X," making this hero one of the most fascinating examples of retconning in comic book history. Even Jaime Reyes, in the short time since he debuted, has been tossed around the DC Multiverse a number of times.
There Are A Few Different Iterations Of Jaime Reyes' Blue Beetle Origin
In Jaime Reyes' Infinite Crisis debut, the Scarab that turns him into Blue Beetle (eventually earning him a spot on the Teen Titans) is the same one Dan Garrett used and Ted Kord could not use, which is accidentally sent to El Paso, where he finds it, takes it home, and discovers it attached itself to him in his sleep.
This was rewritten in 2011, with The New 52 launch, as the result of Jaime trying to protect his friend, Paco, from alien thieves who sought to the retrieve the scarab, which bonded to his spine after a thief's knife struck it when it was being kept in a backpack on Jaime's back. The most recent restoration of the DC Universe, Rebirth, both restores the existence of Ted Kord (who tries to help remove the Scarab from Jaime's spine) and once again makes the eponymous device magic instead of alien.
Blue Beetle Can Manifest Weaponry, Fly, And Has Many Other Abilities
Regardless of where the blue scarab comes from (and from what timeline, for that matter), it really comes in handy when Jaime Reyes is fighting evil as Blue Beetle. In fact, the sentient device itself doubles as his suit - a protective exoskeleton that automatically covers his body whenever he is danger, can create almost any weapon imaginable, even gives Jaime the power of flight.
Of course, those are pretty basic when compared to the ability to see objects from other dimensions, increase Jaime's size and strength to give him an edge in combat, turn his own dead skin into paper, and even work as a compensatory digestive system to cut down on bathroom breaks. Of course, every good thing also has its flaws.
Blue Beetle Sometimes Wrestles With The Scarab For Control
In The New 52 continuity, the blue scarab is revealed to be a device that the Reach created as a way to conquer other planets by attaching to their target host and taking full bodily control, while still keeping them conscious of the death and destruction they are reluctantly causing their own people. Because it was designed this way, Jaime Reyes has struggled to have some, if any, control over the scarab's abilities, especially in his first year as Blue Beetle.
Luckily, he would slowly learn how to be the boss of his bizarre companion, even managing to convince it to help him fight a pair of evil trees, despite its initial reluctance to harm "nature," at one time.
Blue Beetle Has Been Adapted For Screen A Few Times Before
While the upcoming Blue Beetle movie will mark the character's live-action cinematic debut, Jaime Reyes has had his moment on the small screen - the first being as a central character on Batman: The Brave and the Bold (as voiced by Batman Beyond star and former Boy Meets World cast member Will Friedle), just two years after his comic book debut.
He was given the live action treatment in an episode of Smallville Season 10 before appearing on additional animated series Young Justice Season 2, DC Super Hero Girls, and Justice League Action, as voiced by Jake T. Austin. The former Wizards of Waverly Place cast member has also played Blue Beetle in two straight-to-video DC animated movies, namely Justice League vs. Teen Titans and Teen Titans: The Judas Contract.
Jaime Reyes will finally be the star of his own live action film when Blue Beetle becomes available to stream on HBO Max. Whether or not we should expect it on our calendar of upcoming 2022 movies remains to be determined.