Ahead Of Black Adam, 5 Things To Know About DC Comics' Intergang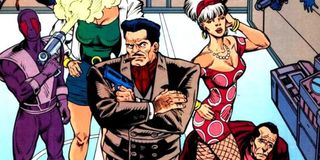 CinemaBlend participates in affiliate programs with various companies. We may earn a commission when you click on or make purchases via links.
Even the most casual fans of DC Comics had enough to reason to be excited for the Black Adam movie when Dwayne Johnson was cast in the lead role before it was announced that members of the Justice Society of America (including Hawkman and Doctor Fate) would also be joining the mix. A little ways further down the road (specifically in July 2021), star Sarah Shahi mentioned that her character, Adrianna Tomaz, is an enemy of the Intergang - teasing that the titular anti-hero may have a whole slew of ruthless villains to contend with. If you need a refresher or a completely fresh explanation of who this "malicious" group is before one of the most anticipated upcoming DC movies finally hits theaters, these is all the essential facts that you should know about the Intergang.
Intergang Is A Crime Syndicate Made Up Of Several DC Villains
Created by the late, legendary comic book writer and artist Jack Kirby and first making their DC Comics debut in October 1970, the Intergang is a notorious criminal organization based in Metropolis. Originally founded in the 1920s by a gangster named Boss "Moxie" Mannaheim before he was murdered by rival criminals, the group would be revived decades later by wealthy medial mogul Morgan Edge (or so it seemed at the time).
The Intergang has been connected to and has consisted of a fair amount of the most horrible villains in DC Comics history, such as Joe Chill (convicted of murdering of Thomas and Martha Wayne), the Prankster, The Ventriloquist, and Lex Luthor, who is also one of several to serve as the group's leader. Another feared foe who has headed the syndicate is also responsible for its reputation to stay one step ahead of the good guys.
Intergang Is Supplied With Tech And Weaponry From Apokolips
Probably the most elusive member of the Intergang and the essential connection that the group has at its disposal is Darkseid, who is easily the most incorrigibly evil of Jack Kirby's race of New Gods. In fact, the very first appearance of the the tyrannical ruler of Apokolips in DC Comics from November 1970 was merely a cameo, but implied that he was the one supplying the group with deadly weaponry and advanced technology originating from his planet.
It was later revealed, however, that Darkseid's right-hand man DeSaad was really the one giving the Intergang the Apokoliptian hook-up and only did so to cause eventual suffering to Morgan Edge (which is his specialty, after all). Nevertheless, the supplies were still essential in helping the group earn its reputation for being a quite a challenge for its most powerful foes, such as one who resides in the same city.
Intergang Frequently Butt Heads With Superman
While many of its members come from various avenues within the DC Universe (or DC Multiverse, even), the Intergang's base of operations has typically been in Metropolis, which means that the group has a special place in the rogue's gallery of the city's resident Krytopian protector: Superman. The Man of Steel has faced off against the villains (individually or collectively) countless times, including one instance when he was not in costume, but as Clark Kent. He and fellow Daily Planet reporter Cat Grant collaborated on an exposé that brought the syndicate to its knees… for some time at least.
The Intergang has also expanded its range to Batman's turf, Gotham City, where they were not forced to contend with a member of the Batfamily (Kate Kane, a.k.a. Batwoman) and GCPD detective Renee Montoya, who had then taken up the mantel of The Question by then. Yet, perhaps the Intergang's most famous and important failure is one of its first when they attempted to make an innocent teenage boy their minion.
Intergang Manipulated Jimmy Olsen To Unwittingly Serve Them
I mentioned before that the Intergang were first introduced into DC Comics in October 1970, but I left out that the title in question was Issue #133 of Superman's Pal, Jimmy Olsen. In the Jack Kirby-penned release, the young, sprite Daily Planet photographer is assigned by his new boss, Morgan Edge, to take photos of the Mountain of Judgment, accompanied by a new iteration of the Newsboy Legion in a special vehicle from New Genesis called the Whiz Wagon. Little does Olsen know that Edge implanted his camera with an explosive, which Superman thankfully prevents from causing death and destruction to Metropolis after the Intergang's failed attempt to kill the already suspicious Clark Kent puts him hot on Edge's trail.
That would not be the last time Morgan Edge and the Intergang tried to put Jimmy Olsen in harm's way before he was eventually discovered to be a clone (not that clones were not already a commonality in the crime syndicate). Since Olsen no longer exists in the DCEU since he was killed off at the beginning of Batman v Superman: Dawn of Justice, it appears we will not be seeing this tumultuous relationship unfold in any upcoming superhero movies on the big screen anytime soon. However, the Intergang could inspire an interesting new chapter in the Batman movies.
Intergang Follows Their Own Religion Dominated By Crime
For the Intergang, crime is not just an occupation, but a way of life. Outside of their Apokolips-sourced equipment, the group's most valuable tool is a book caed the Crime Bible, which is actually not so different from the Christian Bible in terms of its content, but reinterprets all of its stories and teachings as a celebration of sin in lieu of condemning it. The book is the official text of the Religion of Crime - otherwise known as the "Dark Faith" - and was first introduced in 2006 during The New 52 era.
I mentioned earlier that Batwoman and Renee "The Question" Montoya once took on the Intergang, but I left out that the reason for their conflict involved the Crime Bible, which the syndicate's then leader Bruno Mannaheim tried to use to create a cult of criminal minions in Gotham City. The investigation even leads Batwoman and The Question to cross paths with Black Adam and Isis (a.k.a. Adrianna Tomaz), who also have their own personal vendetta against the Dark Faith.
Now, we already know that Renee Montoya exists in the DCEU due to her role in Birds of Prey: and the Fantabulous Emancipation of One Harley Quinn, as played by Rosie Perez. Considering the fact that both she and Black Adam come to make enemies with the Intergang over the spread of the Religion of Crime in the comics, could it be possible that we will see her debut as The Question in the upcoming Black Adam movie? That is one of many questions about Black Adam that we will have to wait until July 29, 2022, to see answered, but hopefully we have at least cleared up any questions you may have about the Intergang.
Jason has been writing since he was able to pick up a washable marker, with which he wrote his debut illustrated children's story, later transitioning to a short-lived comic book series and (very) amateur filmmaking before finally settling on pursuing a career in writing about movies in lieu of making them. Look for his name in just about any article related to Batman.
Your Daily Blend of Entertainment News
Thank you for signing up to CinemaBlend. You will receive a verification email shortly.
There was a problem. Please refresh the page and try again.