Ryan Reynolds' Free Guy Rips On Sequels, So Would They Even Want To Do Free Guy 2? Here's His Take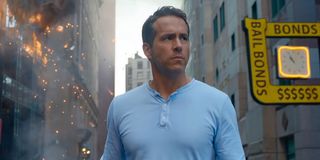 One of the hooks about Free Guy, at least according to the folks who made it, is that it's a wholly original idea that isn't based on an existing franchise or IP. And in an industry that's overwhelmed by sequels, remakes, reboots and adaptations, Free Guy takes great pride in being unique… and likes to poke fun, in a very Ryan Reynolds way, at the abundance of familiarity on the film landscape. And yet, if Free Guy ends up being a success at the box office, you just know that Reynolds and his director, Shawn Levy, will be asked about Free Guy 2. So we got ahead of the curve, and their answers are in the video above.
The challenge for Ryan Reynolds, at least on paper, is how to make Guy -- the character he plays in Free Guy's virtual world of Free City -- different from the antiheroes he finds himself playing lately in both Deadpool movies, and even the two Hitman's Bodyguard films. Reynolds certainly has developed his signature brand of comedy, and it's present in Guy, even though this creation of Artificial Intelligence might be the most benevolent and gentle interpretation Reynolds has crafted.
When discussing how he'd keep Guy unique for a sequel, Reynolds explained:
Which gives the character plenty of room to grow, mentally, in follow up films. Creating a virtual world like Free City gives Ryan Reynolds and Shawn Levy infinite possibilities when it comes to challenges, or antagonists who could come up with new reasons to get in Guy's way. When we brought up the idea of continuing the story to Free Guy director Levy, he acknowledged the open road before them, while also explaining his approach to sequels, in general. Levy said:
It feels like 20th Century Fox has been ramping the audience up for Free Guy for years now. It is one of the movies that has been delayed, because the studio rightfully believed it deserved to be seen on the big screen. You will soon have the opportunity to do that, as Free Guy opens exclusively in theaters beginning on August 13. And if you need to know what else is opening at a theater near you for the rest of the year, this guide to New Releases has you covered.
Movie junkie. Infatuated with comic-book films. ReelBlend cohost. Resident dad. Extroverted introvert. Wants to see the Snyder Cut. Managing Director at CinemaBlend.