The Breakfast Club Cast: What The Actors Are Doing Now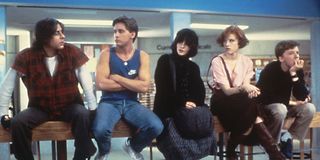 When it comes to some of the most iconic films of the eighties, what is one of the first ones you think of? It could be Raiders of the Lost Ark, or maybe Star Wars: Return of the Jedi, but to me, I always think of the teen films that ruled the decade. And one of those teen films is the legendary John Hughes movie, The Breakfast Club.
But with a film that's as iconic as The Breakfast Club was, where is the cast nowadays? Are they going to be in any upcoming 2021 movies or 2022 movies? I'm talking about some of the main stars, like Molly Ringwald, Emilio Estevez, Judd Nelson and more. Look no further, because now we're going to break down where The Breakfast Club cast is going, what they're biggest hits have been since the the eighties film premiered long ago.
Judd Nelson (John Bender)
Known as "The Criminal" in The Breakfast Club, I think all of us at some point fell for the legendary bad boy of this film, John Bender. Judd Nelson played Bender in the film, and since then has been quite active in both film and television.
After his time in The Breakfast Club, he went on to star in several films, such as the coming-of-age drama, St. Elmo's Fire, Relentless, Conflict of Interest, The Day the Earth Stopped, and the television film, Billionaire Boys Club, alongside several other features. In terms of TV, he's had several appearances on big-time TV shows, like a main role in the sitcom, Suddenly Susan. He also has had several guest roles on series' like Psych, CSI: NY, Family Guy and more, and also had a recurring role on the drama, Empire.
Soon, Nelson is going to be in a new film, titled South of Hope, and new TV show titled, In-Security, so it seems it won't be long before we are seeing him back on both the big and small screen soon.
Molly Ringwald (Claire Standish)
When you think of some of the most iconic faces of the eighties, one of them that always comes to mind is Molly Ringwald, who played "The Princess" Claire Standish in The Breakfast Club. And ever since then, she's had quite the career.
Ringwald became widely known for starring in coming-of-age films. Prior to her role in The Breakfast Club, she starred in Sixteen Candles. After the Brat Pack became famous, she starred in another classic, Pretty in Pink. She also played a part in many different genres of movie, like the romantic comedy, The Pick-Up Artist, the coming-of-age drama, Fresh Horses, For Keeps, the drama Something to Life for: The Alison Gertz Story, and several others. She's also had a main role in The Kissing Booth film series on Netflix, alongside The Kissing Booth 3 cast.
Ringwald has also had a successful career on television as well, having a lead role in the Stephen King miniseries, The Stand, was part of the main cast of The Secret Life of an American Teenager, was the series lead in Raising Expectations, and has recently had a recurring role on the CW show, Riverdale.
In the next couple of years, Molly Ringwald plans on having two films releasing, titled Pursued and Kingfish, so soon we'll get to see the legendary queen of the eighties back on movie screens once more.
Emilio Estevez (Andrew Clark)
Known as "The Athlete" in The Breakfast Club, Emilio Estevez played Andrew Clark perfectly, and showed that even athletes can have feelings too and have their own issues. Moving on from his role in the legendary film, Estevez went on to also have a major career, starring in several different genres of film and television.
Prior to his role in The Breakfast Club, Emilio Estevez had a main role in the S.E. Hinton adaptation of The Outsiders. After The Breakfast Club, Estevez went on to star alongside Judd Nelson in St. Elmo's Fire, played a role in The Mighty Ducks, as well as its sequel, was in the buddy cop film, Stakeout and its sequel, and had a part in both Young Guns and Young Guns II.
Emilio Estevez has also had a few roles in TV, including multiple shows where he has guest-starred. This include the NBC series, The West Wing, Criminal Minds, Two and a Half Men (alongside his brother, Charlie Sheen), and a couple others.
In the '90s, Emilio Estevez played the role of lawyer/hockey coach Gordon Bombay in The Mighty Ducks cast, which he reprised for the sports comedy-drama, The Mighty Ducks: Game Changers on Disney+, which has been renewed for a Season 2.
Soon, Estevez will be in an upcoming film titled, Guns 3: Alias Billy the Kid, which is meant to be another sequel to the Young Guns franchise. Hopefully, we get to see him kick some Western butt real soon.
Anthony Michael Hall (Brian Johnson)
Personally, my favorite part of The Breakfast Club was always Brian Johnson's "The Brain," because it showed that nerds were way more than just their heads and their smart grades, and Anthony Michael Hall did a wonderful job of showing that through his portrayal. Since the film was released, Hall has done plenty in both film and TV.
Hall also had a role in Sixteen Candles alongside Molly Ringwald prior to his part in The Breakfast Club, but after that, he went on to have roles in Weird Science, Out of Bounds, Johnny Be Good, Edward Scissorhands, Six Degrees of Separation, the superhero film, The Dark Knight, the drama Foxcatcher, the action film, War Machine, and so many others.
But besides film, Anthony Michael Hall has also been active in TV. For a short while he was a cast member on Saturday Night Live, but after that he went on to have roles in shows like The Dead Zone, a recurring part in Warehouse 13, a recurring role on The Goldbergs, and many more, like The Blacklist, Murder in the First, and more.
Coming up, Anthony Michael Hall is going to have a role in the upcoming horror film, Halloween Kills, alongside Jaime Lee Curtis, and he has two other roles in film coming out as well, titled The Class and Zero. I think the next couple of years for this talented actor are going to be some packed ones.
Ally Sheedy (Allison Reynolds)
You just had to love "The Basket Case" Allison Reynolds in The Breakfast Club. She was the perfect example of how someone can be absolutely unique and have fun while also showing that her life might not be so easy either. Ally Sheedy, who played Allison, has been active in Hollywood since her role in The Breakfast Club.
She also had a part in St. Elmo's Fire, but then went on to have roles in films like Short Circuit, High Art, and other films that were a bit lower profile than others. However, she's also appeared on TV plenty of times, including guest star roles in shows like SMILF and recurring roles in series' like Kyle XY and Psych. Sheedy has also been in several television films as well, like The Warden, Country Justice and more.
Coming up, Ally Sheedy is set to have a role in a film titled Chantilly Bridge, be in a TV series called Single Drunk Female.
Paul Gleason (Vice Principal Richard)
I think a part of us all hated Vice Principal Richard. He represented everything we could possibly despise about school, which is why the The Breakfast Club gang going against him was great and fulfilling. But Paul Gleason was anything but a jerk and played the role very well, and would resume a successful career after his part in the classic film.
Gleason had already had a very prominent career before his part in The Breakfast Club, one of his most notable roles playing Dr. David Thornton in the soap opera, All My Children for several episodes, and he was in Trading Places. But he would only go on to have many more parts in both TV and film. He also had a part in Johnny Be Good, as well as the classic Bruce Willis-led action film, Die Hard, the fantasy film, Wishman, and many more.
Gleason also had an active television career as well, with many guest roles on popular shows like Friends, Dawson's Creek, Drake & Josh, Malcolm in the Middle, and several others, as well as a recurring role in the series, One West Waikiki.
Sadly, Paul Gleason passed away in 2006, but at the very least we still have his old films and television appearances to remember his amazing talent, and the iconic character that we all grew up watching.
John Kapelos (Carl Reed)
Ah, the janitor. With The Breakfast Club, I feel like we're always so focused in on the Brat Pack that we don't pay enough attention to the few characters who are behind the scenes, and that would be Carl Reed, the janitor of their school, played by John Kapelos.
Kapelos has had many roles in both TV and film. Like some of his co stars, he also had parts in Sixteen Candles and Weird Science, but went on to star in plenty other films, including Roxanne, The Craft, the drama The Shape of Water, 22 Chaser and more.
John Kapelos has also appeared in several TV shows, like a recurring role in the series, Justified, or like the Netflix original, The Umbrella Academy. He also had a role in The Crossword Mysteries, where he played Chief O'Conner. Coming up, he will be in two films, titled Val and The Class.
Out of everyone from The Breakfast Club, which do you think you'll see next in your favorite TV series or movie? Regardless, we all know how iconic this film was back then, and even more so now. I think I'll go ahead and re-watch it. Sometimes all you need is some amazing eighties goodness.
Big nerd and lover of Game of Thrones/A Song of Ice and Fire. Will forever hate season eight. Superhero and horror geek. And please don't debate me on The Last of Us 2, it was amazing!
Your Daily Blend of Entertainment News
Thank you for signing up to CinemaBlend. You will receive a verification email shortly.
There was a problem. Please refresh the page and try again.