Why Marvel Fans Are Complaining To Simu Liu As Shang-Chi Tickets Go On Pre-Sale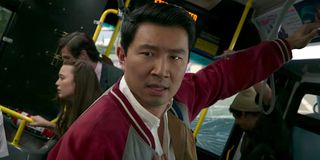 The future of theatrical distribution is uncertain. There are going to be compromises moving forward, both from the studios that are putting out the films that we are anticipating, as well as from the audiences eager to see such films. There's no easy solution that meets every individual's needs, which helps to explain why Marvel fans are complaining to Shang-Chi and the Legend of the Ten Rings star Simu Liu on the morning of his film's world premiere, and the day that tickets for the MCU origin story go on pre-sale.
Simu Liu took to social media this morning to discuss how excited he was to see his first Marvel Studios movie, Shang-Chi and the Legend of the Ten Rings, have its premiere tonight at the El Capitan theater in Los Angeles. To help ease his pre-premiere nerves, Liu asked fans to submit questions, which he'd agree to answer throughout the course of the day, while getting ready. Unfortunately, a large portion of the comments left under Simu's post chastised the actor because this movie would not have a Disney+ Premier Access option, and some audience members don't feel safe going to movie theaters right now.
It is everyone's personal right to choose whether or not they feel safe enough to head back to a movie theater right now. Covid cases are on the rise in some areas of the country, and mask mandates have returned in select states. This has prompted Marvel fans to let Shang-Chi star Simu Liu know that they have no interest risking their health to support his film.
To be fair, there's an equal amount of people who are showing their support for Shang-Chi and the Legend of the Ten Rings, sharing screen grabs of their reservations for opening weekend. One fan even suggested that if you want to see a superhero movie led by an Asian lead do well at the box office, sending a message to Hollywood at large, buy a ticket but stay home.
And as heartbreaking as it is to read the reality of a Tweet like this from someone who is deeply concerned about the Delta variant and the impact that it might have on their family, you also have to realize that this decision is not Simu Liu's to make.
But it's understandable why there's market confusion on a movie like Shang-Chi. The most recent Marvel Studios movie, Black Widow, had a Disney+ Premier Access option, meaning fans could pay $30 to rent it at home. The same option was made available for Disney's features Cruella and Jungle Cruise.
But the studios who were being more accommodating regarding streaming options are trying to lure patrons back to theaters so that the theater business doesn't collapse, entirely. Warner Bros. recently revealed that it's deal to send first-run releases to HBO Max on the same day as theatrical will end at the end of 2021. And Disney is going back to theatrical exclusives, like it did with Free Guy and will do with Shang-Chi.
We will see if the decision helps or hurts Shang-Chi's overall box-office performance once the movie begins screening in theaters on September 3.
Movie junkie. Infatuated with comic-book films. ReelBlend cohost. Resident dad. Extroverted introvert. Wants to see the Snyder Cut. Managing Director at CinemaBlend.