Matthew McConaughey Does Not Wear Deodorant But Smells Like 'Good Living,' Confirms Tropic Thunder Co-Star Yvette Nicole Brown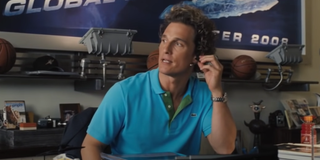 If there was ever just one piece of information about a Hollywood actor that I didn't know I needed, it would be how Matthew McConaughey smells. Apparently the star doesn't feel the need to wear deodorant, but his Tropic Thunder costar Yvette Nicole Brown says the questionable hygiene choice suits him, and that he smells like "Good Living." That's exactly how I would imagine the down-to-Earth man would smell.
Apparently Yvette Nicole Brown made a point to get to know Matthew McConaughey's scent when they were working together on Tropic Thunder because she had heard he claims to have no odor despite the fact that he never wears deodorant. As Brown said in her interview on SiriusXM's The Jess Cagle Show, McConaughey has the sweet scent of "Granola and Good Living." Here it is in the actresses' own words:
Yvette Nicole Brown says she's a huge Matthew McConaughey fan (you and me both, Yvette), and I honestly can't think of anything that screams crazy fan behavior more than being cast on a big production opposite someone like McConaughey and making the conscious decision to sniff him. No shade, though, because I would have done the same thing, and I'm elevated to now know just how the face of Wild Turkey smells.
Unlike Ben Stiller, Robert Downey Jr. and Jack Black, Matthew McConaughey wasn't knee deep in mud in Tropic Thunder for the majority of the movie. He played a big name Hollywood agent in a clean suit in his scenes with Yvette Nicole Brown, and I would wager that he smelled a little different in films like Mud and Dallas Buyers Club.
There's a lot of controversy going around concerning celebrities and their bathing habits and level of hygiene. While it sounds like Matthew McConaughey is a little more liberal with his habits, it doesn't sound like he (or anyone within smelling proximity) is any worse off for it.
Matthew McConaughey is an on-brand guy, and it would seem that even his scent is on board with how he brands himself as someone who is one with nature and at peace with the cosmos. While he doesn't make movies super frequently these days, you can get your dose of McConaughey through his new YouTube channel - it's just a shame technology hasn't mastered the art of transferring smells through the screen yet!
Constantly thinking about books, coffee, and the existential dread I feel from Bo Burnham's Inside. While writing I'm also raising a chaotic toddler, who may or may not have picked up personality traits from watching one too many episodes of Trailer Park Boys.
Your Daily Blend of Entertainment News
Thank you for signing up to CinemaBlend. You will receive a verification email shortly.
There was a problem. Please refresh the page and try again.