Dwayne Johnson Celebrates And Pens Sweet Tribute To Lin-Manuel Miranda After Moana Hits New Milestone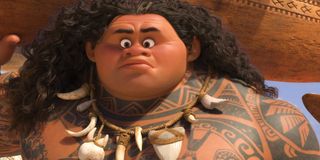 It's been nearly five years since Disney's Moana hit theaters, but it's already become a modern classic. While it's helped lead the pack for a new generation of Disney heroines and inspired fans to dig deep into its symbolism, it's also become one of the more popular films in the studio's recent canon. If you need proof, look no further than the Billboard music charts, where the film's soundtrack, penned by Lin-Manuel Miranda, is still going strong. In fact, it's doing so well there that Moana star Dwayne Johnson recently celebrated a huge milestone and penned some kind words for Lin-Manuel Miranda.
Moana's soundtrack has everything you look for in a classic Disney movie: an empowering ballad, a villain's anthem, and even a fun ditty for the scene-stealing sidekick (in this case, Dwayne Johnson's Maui). So it's not a surprise that it's enjoyed some longevity and inspired passion from fans and the film's cast alike. Dwayne Johnson loves it so much, he couldn't hold back his enthusiasm when he took to his Instagram to announce a huge Billboard milestone for the film:
The chart in question tracks soundtracks -- and Moana's soundtrack has now spent a mind-blowing 52 weeks at the top. Given how many huge movies and musicals have been released in the past few years, including Lin-Manuel Miranda's Hamilton and In The Heights, spending a full year on that chart is certainly something to brag about.
Dwayne Johnson stayed humble, though, and made sure to shout-out those who helped make this achievement happen, beginning with the man behind the music himself:
Of course, in typical Dwayne Johnson fashion, his kind words didn't end there. The actor also showed his gratitude to the fans who've supported the soundtrack for so many weeks:
He finished the Instagram post with a wink and nod to Maui's multi-platinum signature song, "You're Welcome." Take a look at the heartfelt post below:
It's cool to see how Dwayne Johnson is still appreciative of Moana -- which remains one of the stand-out films of his career. It may be in part because it holds special significance in his personal life, too. He revealed in 2017 that his portrayal of Maui was inspired by his grandfather. And over the past couple of years, he's shared the ongoing saga of trying (and failing) to convince his daughter that he voiced her favorite Moana character.
Johnson and Miranda have yet to team up again, though that's understandable given how busy they've both been. Hopefully with the success of Moana, though, we can see them join forces again to deliver another legendary cinematic moment.
Your Daily Blend of Entertainment News
Thank you for signing up to CinemaBlend. You will receive a verification email shortly.
There was a problem. Please refresh the page and try again.