Candyman Ending Explained: Who Said His Name At The End Of The Horror Spiritual Sequel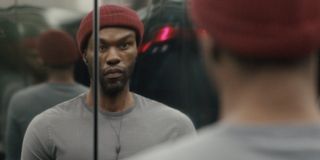 (Image credit: (Universal))
SPOILERS are ahead for Nia DaCosta's Candyman. Meet us here to stare into the fears explored in the horror film once you've seen it.
2021's Candyman is one of those horror movies that has a finale that buzzes in your ears and demands to be talked about, and here we are. Now that the time has finally come for us to see Nia DaCosta and Jordan Peele's horror vision for the iconic franchise, there's a lot to reflect on regarding what the heck just happened during the Candyman ending.
It's been 22 years since the last appearance of Candyman in a film and this version goes back to the original story to continue the tale told between Tony Todd's Daniel Robitaille and Virginia Madsen's Helen Lyle into a modern day continuation that also redefines who Candyman stands for. The movie centers around Yahya Abdul-Mateen II's Anthony McCoy learning about the legend of Candyman and sharing it throughout Chicago via his "Say My Name" art installation. But when murders happen as a result of summoning Candyman, some dark truths begin to come to light. Let's get to what went down:
What Happened At The End Of Candyman
In the third act of Candyman, Anthony McCoy shares with Teyonah Parris' Brianna Cartwright that he is afraid he has really summoned the Candyman. Brianna tries to show Anthony he is not real by attempting to say his name five times in a nearby mirror, but he angrily smashes it alongside his in-shambles art studio that features disturbing paintings of Candyman. Brianna runs back to her brother's to tell him what happened and they decide to later go back to their place to pick up her stuff so she can stay with him for a while. When Brianna realizes that Anthony is effectively missing, she decides to do her own digging and follows the trace left behind via a pen for a laundromat near the Cabrini-Green projects Anthony was at earlier in the film to research "Say My Name."
When Brianna gets to the laundromat, she soon gets locked in the office of Colman Domingo's William Burke, who previously educated Anthony on the Candyman legend. William nabs Brianna and takes her to an abandoned church where Anthony is. Anthony had been stung by a bee at the beginning of the film that was becoming infected on his hand, but this scene reveals that the bite has spread to half his body. Anthony looks in a trance as William calls Brianna a "witness" and proceeds to cut off Anthony's hand in front of her and replaces it with a hook hand. He fits him with a coat identical to Candyman's and announces that the legend will now live on with him.
Brianna makes a desperate run for it and William follows her. Brianna finds a way to knock William down and repeatedly stabs him. Anthony comes into the room and falls into Brianna's arms (very likely still in pain) as police sounds blare in the background. The police find them and gunshots indistinctly fire, seemingly at Anthony rather than Brianna. Brianna is then in the back of a police car being questioned by a shady police officer, who threatens that he could name her an accomplice to the Candyman crimes they've been following. Brianna asks him if he can turn the car mirror her way and she says "Candyman" five times. Anthony's Candyman then appears and the police outside the car are all murdered by him. Brianna escapes and finds herself in front of a surprise appearance by the Daniel Robitaille Candyman, who ends the film with the words "Tell Everyone."
What Is The Real Identity Of Anthony McCoy?
Candyman really starts with the scary story told by Brianna's brother, that leads Anthony to become curious about the story of Helen Lyle. Once he meets William and learns of the Candyman story, he shares with her that he feels really "connected" to telling the folktale from the Cabrini-Green projects. As mentioned, Anthony gets stung by a bee at the torn down site of Cabrini-Green and throughout the film it continues to get worse. At the same time, Anthony is starting to see more and more visions of Candyman.
When he goes to a hospital for it on the side of town where these legends took place, he learns that he was actually born at that hospital, which he had no idea about. This leads him to finally visit his mother, played by Vanessa Williams, who fans of the original may remember had a key role in the 1992 movie. It's then that Anthony learns that he was the baby in the first scary story at the start of the film told by Brianna's brother. This baby was abducted by Tony Todd's Candyman in the original Candyman with "plans" for him, but when Helen Lyle got him and returned him to his mother, she thought he'd been saved from these dark ties to Candyman. Instead, Anthony surrenders to the title, dies by the police and seems to merge to revitalize Daniel Robitaille.
Why Did William Burke Want Candyman To Live On?
Aside from Anthony learning of his identity, the ending is greatly William Burke's doing as well. The laundromat owner has his own dark roots with Candyman, as we learn throughout the film. He is the young boy who first came across a version of Candyman prior to the events of the first Tony Todd Candyman, Daniel Robitaille, back in 1977. As he tells it, he one day met a man who came from the walls and offered him candy before the police ambushed this Candyman and apparently murdered him, even though later he was found to be an innocent man. Following his death, the Candyman legend spread, leading his older siblings to say his name in a mirror and be murdered in the other room from a young William Burke.
Colman Domingo's William Burke is clearly traumatized by his childhood in Cabrini-Green, especially in terms of his experiences with Candyman. After all these years, he believes the violent Candyman legend to be an important part of the community because it's a way to remind people of these violent acts against innocent Black people. He seemingly convinces Anthony of the importance of him taking the Candyman name and bring him back for real.
How The Final Moments Leave The Candyman Franchise
The end of Candyman is a full circle conclusion in many ways to the original film. The baby that Tony Todd's Candyman had picked from his cradle reeducated the Chicago public of the legend through his "Say My Name" art installation. With Tony Todd's appearance, Daniel Robitaille and Anthony McCoy have seemingly converged into the Candyman purpose, as an amalgamation of what this legend stands for. While it's possible that the story could continue with Tony Todd back as the character, it feels more like the ending served as a way to complete the circle of the original and connect this Candyman with a perspective from the present day.
What did you think about the Candyman ending? Vote in the poll below.
This poll is no longer available.
YA genre tribute. Horror May Queen. Word webslinger. All her writing should be read in Sarah Connor's Terminator 2 voice over.
Your Daily Blend of Entertainment News
Thank you for signing up to CinemaBlend. You will receive a verification email shortly.
There was a problem. Please refresh the page and try again.