Candyman Cast: Where You've Seen The Horror Actors Before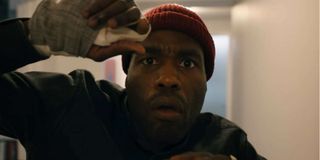 CinemaBlend participates in affiliate programs with various companies. We may earn a commission when you click on or make purchases via links.
You should never underestimate the enduring influence of an urban legend. Case in point: Candyman, director Nia DaCosta and producer Jordan Peele's soft reboot of the 1992 cult classic (and one of the best horror movies from creator Clive Barker) about a woman investigating a tall tale that turns out to be dangerously real. Yahya Abdul-Mateen II and Teyonah Parris lead the new Candyman cast, which also includes a certain familiar face that die-hard fans of classic horror movies should be excited to see. But, first, let's start with our new central protagonist.
Yahya Abdul-Mateen II (Anthony McCoy)
After losing his San Francisco city planning job in 2010, Yahya Abdul-Mateen II pursued acting and broke out on the 2016 Netflix series The Get Down before landing parts in movies like Baywatch or The Greatest Showman and an Emmy for playing Doctor Manhattan on HBO's Watchmen cast. Candyman, in which he plays an artist obsessed with the titular legend, is only the Trial of the Chicago 7 star's most recent dabble in the horror genre after Black Mirror Season 5 in 2019 and his brief part in Us - his first collaboration with Jordan Peele.
Abdul-Mateen II will next lead the Matrix: Resurrections cast, appear on the star-studded ensemble of Michael Bay's Ambulance, is currently filming his reprisal of Black Manta in Aquaman and the Lost Kingdom, and will tour the Wasteland with Anya Taylor-Joy in the Mad Max prequel Furiosa.
Teyonah Parris (Brianna Cartwright)
Yahya Abdul-Mateen II's onscreen girlfriend from the Candyman cast, Teyonah Parris, is also no stranger to both superhero movies and superhero TV shows, having made her MCU debut on the WandaVision cast as Monica Rambeau - whom she will reprise when she reunites with director Nia DaCosta for The Marvels (previously known as Captain Marvel 2). After joining the Mad Men cast in 2012 and the Stars original Survivor's Remorse in 2014, she stole the show in the indie satire Dear White People, played the lead of Spike Lee's modernized Lysistrata retelling Chi-Raq in 2015, and gave a strong supporting performance in If Beale Street Could Talk, from Moonlight director Barry Jenkins.
Parris will share the screen with fellow Marvel movies actor Jamie Foxx and Star Wars' John Boyega in the upcoming sci-fi comedy They Cloned Tyrone, which is now in post-production.
Colman Domingo (William Burke)
Appearing in Candyman as a man who fills Anthony McCoy in on the legend is fellow If Beale Street Could Talk star Colman Domingo, who has a reputation for appearing in biopics (Lincoln, 42, Selma, The Birth of a Nation, Ma Rainey's Black Bottom, and Zola) or loosely fact-based period pieces (Lee Daniels' The Butler or Cinemax's The Knick). He has also starred in comic book adaptations (as a guest star on Netflix's Lucifer and series regular - and occasional director - of the Fear the Walking Dead cast), Jordan Peele's Twilight Zone reboot, Sam Levinson's movie Assassination Nation and HBO series Euphoria, and the Michael B. Jordan-led action thriller Without Remorse.
During quarantine, Domingo had Yahya Abdul-Mateen II on his Zoom call talk show Bottomless Brunch at Colman's and is currently producing and starring in the upcoming, star-studded short North Star.
Nathan Stewart-Jarrett (Troy Cartwright)
Playing Brianna's brother, Troy, is British actor Nathan Stewart-Jarrett, who is best known in his home country (and probably in the States, too) for the coming-of-age superhero dramedy Misfits and the original UK series that inspired Amazon Prime's Utopia. He would pull the reverse method by starring in Hulu's American series adaptation of Four Weddings and a Funeral a year before doing an episode of the BBC's Dracula miniseries, which is a Netflix exclusive in America. Stewart-Jarrett most recently, and notably, appeared on a new coming-of-age TV show, the HBO Max original show Generation, but in the role of an adult mentor.
Kyle Kaminsky (Grady Cartwright)
Actor and musician Kyle Kaminsky plays Troy Cartwright's husband, Grady, in Candyman, which easily marks his most high-profile role yet. After making his acting debut in 2013 with an uncredited appearance on NCIS Season 10, he made his feature film debut four years later in the low-budget drama DriverX (which is not a Speed Racer spin-off about the Racer X character if you were curious). Much of the other titles on Kaminsky's filmography include various short films, his gig composing the Pride and Prejudice-inspired series Darcy's Tales, and the upcoming horror movie I Live Here Now.
Vanessa Estelle Williams (Anne-Marie McCoy)
Reprising her role from the original Candyman (and not the only cast member to do so in the follow-up) as Anthony McCoy's mother, Anne-Marie, is Vanessa Estelle Williams, who made her feature film debut in 1991's New Jack City (one of the best Wesley Snipes movies) before joining the original Melrose Place cast and, later, the cast of the Showtime drama Soul Food. Like her onscreen son Yahya Abdul-Mateen II, Williams is also a DC TV shows veteran with her recurring role as Francine West on The Flash, has encountered spooky situations on an episodes of FX's new anthology American Horror Stories, and also appeared on daytime soap opera Days of Our Lives. The actress has a few Christmas movies and a biopic about singer and civil rights figure Mahalia Jackson in the works.
Carl Clemons-Hopkins (Jameson)
One of the first movies starring Candyman's Carl Clemons-Hopkins was a Christmas movie called Christmas Dreams from 2015 - three years before the actor appeared on Chicago P.D. and later on four episodes of the hospital spin-off Chicago Med as an entirely different character. Clemons-Hopkins also had a recurring role on another series set in the Mid-Western metropolis, Showtime's The Chi, in 2018 - the same year the actor appeared in the faith-based crime drama Canal Street, which was filmed in Chicago, Illinois. The Lithonia, Georgia, native also guested on an episode of Fox's technophobic sci-fi drama NEXT, earned an Emmy nomination for playing Marcus Vaughn on the hit HBO Max comedy Hacks, and plays a detective in the upcoming mystery thriller Casual Encounters: Philadelphia True Crime Confessions.
Rebecca Spence (Finley Stephens)
Credited as Finley Stephens on the Candyman cast is Rebecca Spence, who debuted in a TV rom-com called Platonically Incorrect and appeared on a 2005 Prison Break episode soon before landing small parts in otherwise big movies like The Break-Up, Michael Mann's John Dillinger biopic Public Enemies, another Vince Vaughn comedy called The Dilemma, and the frighteningly timely disaster movie Contagion from Stephen Soderbergh. After a recurring role on Starz's Golden Globe-winning drama Boss, she became a DC movies "star" by appearing in Man of Steel, dipped into the horror genre with A24's Slice, and continued to land spots on more hit TV series like Empire, Netflix's Easy, and Amazon Prime's Utopia.
Her upcoming medical thriller Rounding is now in post-production and she is currently filming producer Michael B. Jordan's AMC series 61st Street and a series adaptation of the Image Comics series Paper Girls.
Cassie Kramer (Librarian)
Playing a role credited on IMDb as "Librarian" is Cassie Kramer, who has guest spots on NBC's One Chicago franchise in common with some of her fellow Candyman cast members. Known for many short films and TV guest spots and the low-budget 2020 drama The Girls of Summer, she is also the writer, director, and star of the web series Bimbo. Kramer just finished writing, producing, photographing, composing, directing, and starring in a new short drama called Borne, Bottled, and also has two feature-length thrillers called The Boy of Leah and Deep Woods in the works.
Michael Hargrove (Sherman Fields)
Nia DaCosta's sequel adds another layer to Candyman's mythology with the incorporation of a new character named Sherman Fields, who earns the "honor" of having a nickname synonymous to the legendary horror movie villain for a heinous crime he was falsely accused of. The character is played by award-winning theatre performer Michael Hargrove, who made his film debut in the 2008 musical Were the World Mine the same year he appeared in the acclaimed sports biopic The Express. Like a few of his Candyman cast members, Hargrove has appeared on two different installments of the One Chicago franchise (Chicago Fire and Chicago P.D.) as two different characters and he has also dabbled in writing his own projects such as the story for the upcoming crime film Frank Chase in the Streets of Harlem, which stars rapper turned Law & Order: Special Victims Unit cast member Ice-T.
Tony Todd (Daniel Robitaille / Candyman)
However, the one true Candyman is Tony Todd, who reprises the titular villain in the hotly anticipated new chapter. Since breaking out in Oliver Stone's Platoon, the actor's reputation as a beloved Scream King (which he revisited in the Shudder original documentary Horror Noire: A History of Black Horror) really began with 1990's Night of the Living Dead remake and continued beyond the Candyman franchise with roles in The Crow, Wishmaster, the Final Destination movies, Hell Fest, and, most recently, Scream: The Series. Of course, Todd is known for other genres (he had a recurring role on 24, voiced the villain in Transformers: Revenge of the Fallen, played a CIA agent on Chuck, and is uncredited as the voice of Zoom on The Flash), but I have no doubt we will see him appear in plenty more horror movies.
One of my favorite behind-the-scenes horror movie secrets is that Tony Todd requested a pay increase of $1,000 for every time he was stung by a live bee while filming the original Candyman. According to The Guardian, he was stung 23 times (you do the math). I would be curious to hear how much he made working Candyman, in theatersas of Friday, August 27, 2021.