The Matrix Resurrections: Release Date, Cast, And Other Quick Things We Know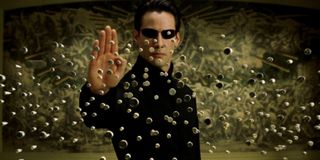 It's time to resurrect. Nearly 20 years after The Matrix Revolutions, the world of The Matrix returns with December's The Matrix Resurrections, which will see Keanu Reeves and Carrie-Anne Moss reprising their roles as Neo and Trinity, respectively. Also starring Yahya Abdul-Mateen II, Priyanka Chopra Jonas, Neil Patrick Harris, and Jonathan Groff in undisclosed supporting roles, Lana Wachowski's new movie is shadowed in mystery, though we're learning more about this forthcoming film as we get closer to its winter release date. With that said, here's what we currently know about this fourth Matrix film.
The Matrix Resurrections Will Premiere In Theaters And HBO Max On December 22, 2021
Indeed, as the original movie once noted, The Matrix is everywhere. It is all around us. Few movies have influenced the new millennium quite like that iconic sci-fi blockbuster, and yet, it's been a while since The Matrix has been with us. 18 years, in fact. But that will soon change. On December 22nd, 2021, we'll get The Matrix Resurrections playing simultaneously in theaters and on HBO Max, just in time for the holidays.
Keanu Reeves And Carrie-Anne Moss Will Once Again Play Neo And Trinity
For Matrix fans, it was surprising, exciting, and a bit confusing when it was announced that Keanu Reeves and Carrie-Anne Moss would reprise their roles as Neo and Trinity in The Matrix Resurrections. Without getting into heavy spoilers, The Matrix Revolutions gave a pretty definitive final chapter to their collective stories, and there wasn't a lot of room for continuing their sagas. Nevertheless, they're back! And it's definitely going to be intriguing to see how they've been brought back into the fold for this brand new film.
The Matrix Resurrections Is Co-Written, Produced, And Directed By Lana Wachowski
Six years after 2015's audacious Jupiter Ascending leaped into theaters, The Matrix Resurrections marks the big-screen return of co-writer, producer, and director Lana Wachowski. That said, it should be noted that her regular collaborator, Lilly Wachowski, isn't attached to this upcoming sequel, as she has focused her attention away from the industry. Thus, The Matrix Resurrections will be the first Wachowski movie made by only one Wachowski. Lilly Wachowski hasn't directed since 2015, and Lana first started directing on her own with several Season 2 episodes of Netflix's beloved show, Sense8.
The Cast Includes Yahya Abdul-Mateen II, Neil Patrick Harris, Jonathan Groff, Priyanka Chopra Jonas, Jessica Henwick, And Christina Ricci
In addition to Keanu Reeves and Carrie-Anne Moss reprising two of their most famous characters, The Matrix Resurrections will introduce a number of familiar faces to this techno film franchise, including Yahya Abdul-Mateen II (Candyman), Neil Patrick Harris (Gone Girl), Jonathan Groff (Mindhunter), Priyanka Chopra Jonas (The White Tiger), Jessica Henwick (Game of Thrones), and Christina Ricci (Speed Racer). Not much is known about any of their characters, but the CinemaCon footage suggests that Harris will play a therapist for Neo, while Abdul-Mateen II is rumored to be a new Morpheus-esque leader. We'll learn more about their respective characters in the months to come.
Jada Pinkett Smith, Lambert Wilson, And Daniel Bernhardt Will Also Reprise Their Roles From The Matrix Sequels
Along with Keanu Reeves and Carrie-Anne Moss picking up their black trench coats and sunglasses once more for The Matrix Resurrections, this new sequel will also feature the returning talents of Jada Pinkett Smith, Lambert Wilson, and Daniel Bernhardt, who will also reprise their roles from the previous Matrix sequels. Specifically, Smith will once again be seen as Niobe, the captain and pilot of a rebellious Zion hovercraft, Wilson will play The Merovingian again, and Bernhardt is signed on as Agent Johnson.
The First Footage Teases An Eventful Reunion Between Neo and Trinity
We, the general public, are still waiting to get our first official glimpse of The Matrix Resurrections, but the lucky folks at this year's CinemaCon had the privilege of seeing the first footage from the intriguing new sequel. As detailed by our own Eric Eisenberg, this mysterious new sequel will feature Neo, who is seemingly no longer aware of The Matrix, recounting some bizarre dreams to his doctor. This is not the Neo we've once known, the leader of the battle to save humanity. And if it is, that man's triumphs are long recessed in his brain. That is, until he meets a woman once known as Trinity, and when they shake hands, there's an instant tingle of familiarity shared between them. From there, Neo must choose whether or not he wants to continue being blue-pilled.
That's an intriguing idea for a modern Matrix sequel — possibly one that's going to be divisive to fans, too. But we'll hopefully see this exciting footage for ourselves in a matter of time.
Laurence Fishburne Is Not Expected To Appear As Morpheus In The Matrix Resurrections
While The Matrix Resurrections serves as a big reunion between Lana Wachowski and several of her past collaborators, there's one actor in particular who sadly didn't get a callback — much to his (and our) disappointment. Specifically, if you were hoping to see Morpheus in this newest Matrix movie, you better prepare to be disappointed. Laurence Fishburne has been open about not being involved in the movie, having told New York Magazine (via The Wrap) that he was not invited. He has also said that several people have asked if he will return but noting he couldn't answer as to why that is. Perhaps this is a fib and we'll see him in a cameo, but it sounds like Fishburne is being sincere, which is a great shame. It also makes you wonder what this movie will be; what's a Matrix sequel without Morpheus? I guess we'll see soon enough.
Warner Bros. Spent A Lot Of Money To Shoot It In San Francisco… And Caused Some Damage, Too
While the previous three Matrix movies opted to shoot in Sydney, Australia, in order to capture a palpable but not very specific look of an American city, the filmmakers were located stateside this time around. Specifically, The Matrix Resurrections was shot in San Francisco, and it wasn't cheap either. Due to the various explosions and the heat from said explosions causing property damage, the movie received quite a hefty price tag before it was all said and done.
The Matrix Resurrection's Production Was Delayed Due To COVID-19
Like many movies and shows throughout this troubled time, The Matrix Resurrections was subjected to several delays. Beginning production in early February 2020, filming was halted on March 16th, 2020 due to the COVID-19 pandemic. Production continued to be stopped until August 2020. From there, the film resumed filming through the fall.
Certainly, The Matrix Resurrections is a major movie with a lot of spinning wheels, and it must've been immensely difficult to make even during the best of circumstances — let alone during a major health crisis. But the filmmakers were eventually able to get it finished in time for this December's release date, with the delays only heightening the excitement.
The Production Received Help From The John Wick Directors
Things have come full circle for Chad Stahelski and David Leitch, the filmmakers best known for helming 2014's John Wick. Prior to their time in the director's chair, Stahelski and Leitch worked as stuntmen for these influential blockbusters. Now, they're using their influence to help shape The Matrix Resurrections. As Stahelski noted in an interview with Collider that they were involved with "the creative concept of some of the choreography and backing them up with stuff." Lana Wachowski directs her own action — with no second unit assistance — and her vision will be present throughout this film. But Leitch and Stahelski were happy to lend their assistance, helping this Matrix movie be the best version of itself it can be.
The Matrix Resurrections will screen in theaters and on HBO Max on December 22nd.
Your Daily Blend of Entertainment News
Will is an entertainment writer based in Pittsburgh, PA. His writing can also be found in The Playlist, Cut Print Film, We Got This Covered, The Young Folks, Slate and other outlets. He also co-hosts the weekly film/TV podcast Cinemaholics with Jon Negroni and he likes to think he's a professional Garfield enthusiast.