Avengers: Endgame's Russo Brothers React To Spider-Man: No Way Home's Trailer Breaking Viewing Record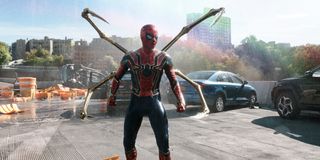 It has been quite the week for Spider-Man fans. The trailer for Spider-Man: No Way Home was leaked last Sunday, prompting Sony and Marvel Studios to quickly scrub it from the internet. The trailer would officially be released the following day (to coincide with CinemaCon), to say that it caused hype among fans would be an understatement. As a result, the three-minute teaser trailer broke the viewing record previously held by Avengers: Endgame, and the Russo Brothers reacted to the trailer's success.
The Spider-Man: No Way Home teaser trailer raked in a whopping 355.5 million views in its first 24 hours on the web. Avengers: Endgame's debut trailer previously held this record, with a 24-hour viewing record of 289 million views. Since they are the minds behind Endgame and two of the most influential directors of the Marvel Cinematic Universe, it was only fitting that Joe and Anthony Russo reacted to the massive trailer. Check out the Russos' Instagram post to see how they celebrated No Way Home's recording-breaking trailer:
It's fitting that the Russo Brothers would react to the trailer, as they have a special connection with Tom Holland's Spider-Man. Years ago, the filmmakers played a big part in casting him as Peter Parker for his debut in Captain America: Civil War. And that film would ultimately make the actor and the character a mainstay in the MCU. So for Joe and Anthony Russo, it must be gratifying to see that Holland and his take on the young hero has resonated with fans so much of the past few years. But how did Holland himself respond to the trailer drop?
Well, Tom Holland was actually on a plane when the trailer for Spider-Man: No Way Home dropped, and he dropped a pretty enthusiastic reaction when he finally turned on his phone, and how could blame him? The trailer features Doctor Strange and Peter working together amid some seriously trippy visual effects. The multiversal nature of the film was on full display, and the implications it will for the MCU as a whole are exciting. Hopefully, the film lives up to the sky-high expectations before it.
Aside from Alfred Molina's Doctor Octopus, the trailer also confirmed another major villain from Sam Raimi's Spider-Man films is returning. During the trailer, hear Willem Dafoe's iconic Green Goblin laugh. The film seems to be bringing multiple worlds and villains together, including Jaimie Foxx's Electro (with potential others), indicating we might get to see a version of the Sinister Six. Tobey Maguire and Andrew Garfield are also rumored to return as their respective Spider-Men, which means we could finally see a live-action version of the infamous Spider-Man pointing meme.
Spider-Man; No Way Home is set to release December 17, and it can't come soon enough. Before its release though, you can catch Shang-Chi and the Legend of the Ten Rings on September 3, and Eternals, directed by Oscar-winner Chloé Zhao, on November 5. The MCU is back to churning out movies, and the fans are surely happy to have them back!
Your Daily Blend of Entertainment News
Movie and TV obsessive. A good Heist movie is the way to my heart. Enjoyer of everything from Marvel Movies to Rom-coms.