Apparently, The Russo Brothers Had A 'Difficult' Time Casting A New Spider-Man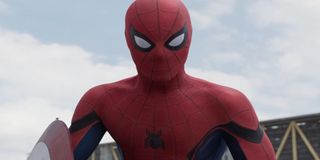 Joe and Anthony Russo have accomplished a lot in the Marvel Cinematic Universe, imprinting their legacy within Marvel's constantly expanding world of movies and now television. The Avengers: Endgame director's greatest accomplishment outside of directing one of the biggest movies of all time might well be integrating Spider-Man into the MCU and establishing Tom Holland as a fixture in the MCU. Outside of the struggle of striking a deal with Sony, who owns the rights to Spider-man and getting Spider-Man on the MCU stage, the Russo brothers had to find the right actor for the job, and it turns out it was not an easy process.
Up until his MCU debut, Spider-Man had been portrayed by Tobey Maguire and then Andrew Garfield. The Russo brothers were tasked with finding someone who not only fit the description but was also totally believable as the new iteration of Spider-Man within the Marvel Cinematic Universe. Finding Tom Holland seemed to be worth the wait, as the Russo Brothers told Inverse.com:
Tom Holland became the perfect fit for the Russo's vision of the character that would debut in Captain America: Civil War. Holland has gone on to star in Spider-Man: Homecoming and Spider-Man: Far From Home with a third installment, Spider-Man: No Way Home, which has recently wrapped filming. The success of Spider-Man in the MCU is primarily due to Tom Holland's excellent portrayal of Peter Parker, and it's clear the Russo brothers saw a unique quality in the actor that would someday transcend his work as Spider-Man. They also noted,
After zeroing in on Tom Holland as their pick for the MCU's Peter Parker, the Russo brothers did meet resistance from Sony, who holds the rights to Spider-Man on the big screen. Even after the arduous process of finding the perfect actor in Tom Holland, the Russo brothers in fact had to convince Sony and Marvel that he was the right fit. Their insistence in casting Holland paid off big time for all parties involved.
The Russos and Tom Holland's careers are linked forever by Spider-Man. The trio was happy to reunite post Avengers: Endgame with Cherry, which stars Holland as a returning war veteran with PTSD, a substance abuse problem. With all of their shared success, It's not hard to see the Russo brothers and Tom Holland working together for years to come.
Movie and TV obsessive. A good Heist movie is the way to my heart. Enjoyer of everything from Marvel Movies to Rom-coms.
Your Daily Blend of Entertainment News
Thank you for signing up to CinemaBlend. You will receive a verification email shortly.
There was a problem. Please refresh the page and try again.