How Some Harry Potter Fans Will Be Able To Tour The Forbidden Forest In Real Life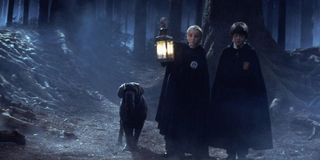 The Wizarding World of Harry Potter has long been reachable in more real ways than just on screen and off the pages of JK Rowling's popular book series, but now a different aspect of the magical world could be seen in real life. While it's not happening at a Universal theme park, The Forbidden Forest that surrounds Hogwarts has been created at Arley Hall and Gardens in the United Kingdom, and it's being made available for some fans to tour it. Now we have the details on how to book a tour.
Tickets to Arley Hall and Gardens' rendition of The Forbidden Forest are exclusively available on Fever (opens in new tab), an event and experience ticket marketing site. The attraction will only be available this October and may be a little bit of a hike for American Harry Potter fans, as Arley Hall and Gardens is located in England. The tickets are pretty affordable, as they're priced below 40 euros. However, once you tack on a round-trip plane ticket, it could get a little costly to visit The Forbidden Forest.
Tickets are available for purchase now, but they seem to be going pretty quickly. This definitely makes sense considering how hardcore the Harry Potter fandom is, even if it is only people relatively local to the attraction that are signing on for the experience.
Warner Brothers is behind The Forbidden Forest experience, which will allow fans to take an after dark walk throughout Arley Hall and Gardens' creation. It seems as if they are incorporating some Fantastic Beasts promotions, as the newest addition to the franchise has been set for next year.
The hour (ish)-long walk through The Forbidden Forest will feature some of the mythical creatures fans read about in the books and some they've seen throughout the Wizarding World shown on the big screen, like Hippogriffs, unicorns and nifflers. Of course, centaurs are expected to be spotted there as well, as they largely dwell in the Forbidden Forest and are featured all through the series.
At the end of the walk through The Forbidden Forest, travelers can expect to be greeted by a warm Harry Potter-esque village where they can fill their stomachs and empty their wallets. Harry Potter and Fantastic Beasts memorabilia will be available for purchase, and it'll probably be hard pressed for a Harry Potter fan to pass up after having the magical world brought to life in a fun new way.
Most Harry Potter fans know that one of the first rules Dumbledore gave to Harry Potter, and the rest of the first years in the first Harry Potter book, was that The Forbidden Forest was... well, forbidden. That said, fans also know that The Forbidden Forest has many secrets, which they can explore during the month of October - but those who wish to discover them should probably act quickly.
Constantly thinking about books, coffee, and the existential dread I feel from Bo Burnham's Inside. While writing I'm also raising a chaotic toddler, who may or may not have picked up personality traits from watching one too many episodes of Trailer Park Boys.
Your Daily Blend of Entertainment News
Thank you for signing up to CinemaBlend. You will receive a verification email shortly.
There was a problem. Please refresh the page and try again.