One Of The Duggars Is Pregnant Again, Naturally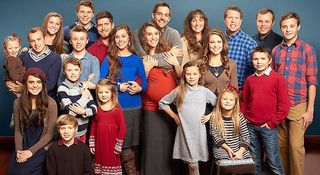 (Image credit: tvguide.com)
It looks like Jessa and Ben Seewald will be extending the Duggar family tree in the upcoming months, as the 19 Kids and Counting stars just announced that they are pregnant with their second child! Due in February of 2017, the news comes just nine months after Jessa gave birth to their first child, a boy named Spurgeon.
In an exclusive interview with PEOPLE, Ben and Jessa announced the new arrival in a family photograph depicting baby Spurgeon in an adorable cap and a chalkboard sign that read "Doubling the Love, Feb 2017".
The announcement has come as a shock to fans after complications during her first delivery sent Jessa to the ER room after she was in labor for two full days. Fortunately, the reality star can now laugh about her reaction to the situation, telling her husband that Spurgeon would be their first and last child! In an interview with PEOPLE, Jessa explained:
While the couple did plan on having more children after the birth of their son, they began looking more into adoption options instead in hopes to avoid any complications during pregnancy. This would have meant that Jessa and Ben would have had to wait until Spurgeon was a bit older, as adoption agencies typically do not allow parents to adopt while they already have an infant at home. Apparently the couple couldn't wait and chose the natural route instead!
As the fourth Duggar child, Jessa was homeschooled and raised in a very religious environment. While the world certainly judged the Duggar family for their excessive number of children and the emotional and financial problems that would naturally cause, Jessa hardly had a negative thing to say about her upbringing. The family became a household name when the news broke that Jessa's older brother Josh had sexually abused her and her sisters growing up. The media seemed to blow the situation out of proportion, calling Josh a child molester, rapist, and worse, an unfortunate scandal that resulted in TLC pulling the show off the air. However, in 2015 Jessa cleared things up in an interview with The Kelly File stating what Josh had done was just mildly inappropriate touching, and that while it was wrong, calling him a pedophile is really just blowing things out of proportion.
With Ben and Jessa still in their early twenties and already on their second child, it's safe to start wondering if their fast growing family is headed in a similar direction as the Duggar's. Perhaps we'll see another spinoff series in the future featuring the darling couple and their dozen or so children that they'll be sure to have at this rate!
Your Daily Blend of Entertainment News