Tim Gunn Says It's A Disgrace That Designers Don't Make Clothes For Plus-Size Women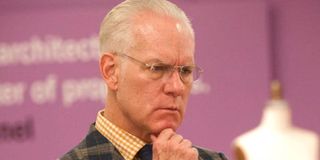 (Image credit: Project Runway)
The fashion industry has come under fire many time for its unrealistically narrow standards of female beauty, but now it has a new Gunn pointing at it. Noted fashion educator and Project Runway mentor Tim Gunn penned an op-ed piece in the Washington Post on Thursday, in which he criticizes designers and retail outlets for ignoring plus-size women.
In the Washington Post article, Gunn expresses his shock that the fashion industry is largely ignoring what could be its most profitable market, noting that the industry hasn't seem to notice that "far more women in this country wear a size 16 than a size 6." He goes on to point out the incredible successes that some retailers have achieved after expanding their plus-size offerings, citing the financial growth of ModCloth and Eloquii.
Tim Gunn calls out Chanel's head designer Karl Lagerfeld and Abercrombie & Fitch for blatant statements they've made about choosing not to cater to plus size women, and explains that making flattering clothing for larger sizes is a completely manageable task that many designers simply choose not to engage in.
Gunn cites his own years of experience as a stylist to express his frustration when trying to find flattering, well-made clothing for a plus size client, calling the task "insulting an demoralizing" at most retailers. He shares his contempt for the ill-conceived designs that make up the overwhelming number of options for plus size women, and implores designers to spend more time creating clothing that plus size women would actually want to wear.
And Tim Gunn doesn't pull any punches when it comes to his own long-running reality series. The design mentor writes that he takes issue with how Project Runway depicts plus size women. In particular, he admits to hating the title of each season's "real women" challenge (which has the designers create clothes for plus-size women), and the reaction of disdain that the challenge elicits from the contestants, who are nearly always upset to not be working with thin models. He also writes about his disappointment in the victory of season 14 winner Ashley Nell Tipton, calling her plus-size collection "hideous" and that she likely won merely as "a nod to inclusiveness."
But there is one Project Runway winner who has made Gunn proud recently. Season 4 champion Christian Siriano came to the aid of comedian Leslie Jones after she stated that no designer wanted to make a dress for her body type, and thus she had nothing to wear to the premiere of her film Ghostbusters. Siriano responded by designing a gorgeous red gown for Jones.
This isn't a new issue for Tim Gunn --- the design icon has been vocal about wanting to represent plus-size women in the fashion industry and on Project Runway for quite some time now. During a roundtable with The Hollywood Reporter back in 2014, Gunn said that he wishes his reality show would do a whole season where the models are all larger than a size 12. Based on the piece he wrote for the Washington Post, it's evident that Gunn still feels strongly about the subject.
You can check out Tim Gunn's full piece at the Washington Post.
Your Daily Blend of Entertainment News