Watch Chris Pratt Lose His Patience When A Guy Gets Rude With Him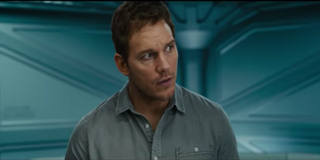 For all the incredible things that come with being a rich and famous celebrity, there are a few major drawbacks, such as incessant paparazzi and fickle fans. Even a star as beloved as Chris Pratt can't seem to walk from a building to his car without being swarmed by people who are ready to turn on him if he doesn't sign their memorabilia. As you'll see in the video below, Chris Pratt is more than patient in a situation like that, until someone gets rude with him...
A video taken by TMZ shows Chris Pratt taking some time before getting into his car to sign a bunch of merch for his fans, including Guardians of the Galaxy posters and his GQ cover. Of course, the star couldn't get to everyone in the massive swarm of people without hanging out on the sidewalk for an hour, but when his car started to drive away, one man apparently began cussing him out for not getting the attention he wanted from Pratt.
Ever the classy guy, Chris Pratt rolled down his window and calmly but forcefully told the man to be nicer.
Among the autograph signings, various paparazzi were also trying to ask Chris Pratt about the topic that everyone in entertainment is still caught up with right now: the Brangelina divorce. Pratt responded to the news by saying "I'll pray for them. That's too bad," When the pap went on to assert that the break-up will make Pratt and his wife Anna Faris the new Hollywood "it" couple, the star ignored the claim and focused on his autographing.
Interestingly enough, Chris Pratt has worked with both Brad Pitt and Angelina Jolie on projects during their Brangelina years. Pratt costarred with Jolie in her 2008 action flick Wanted, and with Pitt on his 2011 baseball drama Moneyball.
Of course, Chris Pratt is now a leading man in his own right. After coming up in the comedy world thanks to his role as the lovably doofy Andy Dwyer in Parks & Recreation, Pratt shifted gears and became one of the most sought after sci-fi action heroes thanks to leading roles in Guardians of the Galaxy and Jurassic World --- both of which have sequels coming out. He's also getting in with the action flick kingpin Quentin Tarantino for the upcoming The Magnificent Seven, and blasting off into space with Jennifer Lawrence in the upcoming Passengers.
When he's not working on his various film roles, Chris Pratt is at home with his wife and son. He and Anna Faris (Mom, The House Bunny) married in 2009, and welcomed their son Jack in 2012.
Your Daily Blend of Entertainment News
Your Daily Blend of Entertainment News
Thank you for signing up to CinemaBlend. You will receive a verification email shortly.
There was a problem. Please refresh the page and try again.