A Woman In San Jose Ordered Chicken Wings, Received A Wad Of Cash Instead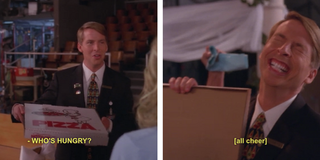 (Image credit: 30 Rock)
Selena Avalos, a manager at the cell phone store Spacetell Wireless, ordered chicken wings from her nearby Domino's last week, but was delivered huge wads of cash instead, San Jose's ABC7 News reports. Apparently, the money was actually meant to be going to the bank, but somehow wound up in a to-go box instead. I'm still pretty confused as to how that mix-up happened...
Instead of giving into temptation and pocketing the cash, Avalos proved that she's a good person by calling up the Domino's store to try and return the misplaced money. Strangely enough, the store didn't return her calls for about three days, but Avalos still persisted in her mission and got ABC7 News involved to get her in touch with the franchise owner, who finally accepted the thousands of bucks back from Avalos.
Though Selena Avalos didn't get the five grand, she was handsomely rewarded by both Domino's and her employer. Spacetell Wireless gave Avalos a paid week off for her honesty, and Domino's is rewarding her with free pizza for a year! By my calculations, If she gets a free large pizza every day for the full year, Avalos will have made full use of the five thousand dollars that she returned. Better make some fridge space!
Well, this certainly isn't the kind of dough you usually expect Domino's Pizza to deliver. A woman in San Jose, California opened what she thought was the box of chicken wings that she had ordered, only to find close to five thousand dollars in cash instead.
Surprisingly, a very similar surprise cash delivery happened at Domino's last year. In September of 2015, a man in Berkeley, California opened the pizza box delivered to him to find $1,300 inside, according to the Associated Press. That man was also rewarded for turning in the cash with a year of free pizzas.
And this isn't the first time recently that a fast food restaurant has given away free food to a specific customer. Just a few weeks ago, Chipotle forked over a dozen free burrito coupons to a 19-year-old woman in recompense for her suffering E. coli from the chain. If free food from the place that made you sick sounds like a bizarre perk, that's because it is, but the woman had actually requested the free burritos herself!
But probably the biggest free fast food winner in recent years is Charles Ramsey, the Cleveland man who stopped eating his McDonalds to investigate the screams coming from his neighbor's house. Turns out, those cries were coming from three woman whom his neighbor (Ariel Castro) had been keeping captive for about a decade. To reward Ramsey, twelve local restaurants offered him free burgers for life.
Your Daily Blend of Entertainment News
Your Daily Blend of Entertainment News
Thank you for signing up to CinemaBlend. You will receive a verification email shortly.
There was a problem. Please refresh the page and try again.