The One Song Demi Lovato Didn't Want To Sing At The White House… Until The First Lady Requested It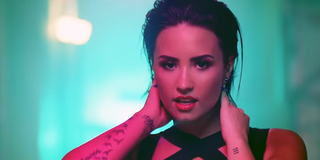 (Image credit: Cool for the Summer)
Michelle Obama wasn't going to let Demi Lovato leave out one of her hit songs during her White House performance earlier this year. Though the singer had purposely left her provocative single "Cool for the Summer" off of the set list for the event, she was coerced into performing it at the request of the First Lady.
Demi Lovato tells the story in the latest cover story for Glamour, admitting that when she was invited to perform at the Nordic state dinner at the White House in May, she made the decision to not sing "Cool for the Summer," despite the fact that it was one of her most well-known singles. Though Lovato found the sexually-charged song to be inappropriate for the setting, she quickly changed her tune once Michelle Obama asked her to perform it.
But Demi Lovato admits that it was still pretty awkward to sing about a brash anthem about sexual experimentation in front of a bunch of Nordic political leaders and the President of the United States. The singer says that she avoided eye contact with President and First Lady Obama throughout the song, but she still managed to throw in one winky little lyric change.
The first single from her fifth studio album Confident, "Cool for the Summer" ushered in a decidedly bolder and more self-assured direction for Demi Lovato and her music. The former Disney star had grown from bubblegum pop-rock in her career beginnings to soulful ballads following her public struggles with self-image and substance abuse, and then took her turn as a bona fide pop star by releasing the sultry song of the summer contender "Cool for the Summer" last year.
But Michelle Obama wasn't the only famous lady that Demi Lovato talked about in the cover story. The singer was also asked about Taylor Swift, whom she's criticized in the past for using feminism as a brand rather than an ideology, and spoke more about some of the harmful aspects she sees in Swift's famous "squad" of friends.
Demi Lovato, who's struggled with eating disorders and self-image, pointed out that she doesn't see a "normal body" among Swift's group of gal pals, and said that it gives people a false image of what they should look like. Lovato was also critical of Swift's "Bad Blood" music video --- a rallying cry for war against a former friend that's been rumored to be about Katy Perry --- and said that it wasn't empowering for women since she was trying to bring down another woman with it.
After the Glamour interview went online, Demi Lovato posted a string of tweets defending her answers to the questions, most likely in reference to her criticism of Taylor Swift. She reminded her followers that words can be taken out of context in interviews, but assured them that she is standing by what she said without apology.
However, at the end of the string of tweets, Lovato wrote that she will be taking a break from music and the spotlight in 2017, writing that she's "not meant for this business and the media." Well, at least she got to sing at the White House before stepping away from the mic --- that's pretty damn cool!
Your Daily Blend of Entertainment News
Thank you for signing up to CinemaBlend. You will receive a verification email shortly.
There was a problem. Please refresh the page and try again.