Watch Taylor Swift's Squad Take Over A Post-Apocalyptic Future In SNL Spoof Trailer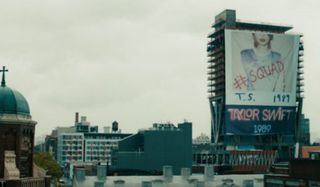 It seems like every time you turn to social media, Taylor Swift has added yet another celebrity to her Taylor Swift Squad, and at the rate it is taking off, there's little time till the pop star takes over the world. Or at least, that's how Saturday Night Live sees her rise in the masses. Watch this horror movie/The Walking Dead-esc trailer spoof on what would happen if Taylor Swift's squad took over the world.
In a post-apocalyptic world where everyone wants and needs to be in Taylor Swift's squad, the streets are empty, the posters are risen, and the only people left surviving are just fighting off any positive thoughts about all the celebrity has to offer. The mock trailer follows Aidy Bryant and Vanessa Bayer, two best friends who vow to stay friends till the end of the world, which comes soon after their vow was made. The two wake up from the hospital in an obvious nod to Rick Grimes' journey into the post apocalyptic world in The Walking Dead where they find the streets bare, and wonder, what happened to everyone? Well, a battered and tearful Kenan Thompson explains how it all went down:
Clearly a jab at the quickening pace of T.Swift's growing posse, the Matt LeBlanc references is particularly funny, as the pop star recently invited the Friends actor to stage during her 1989 tour. And Matt LeBlanc joins a long list of celebrities joining Swift on stage during tour, from Avril Lavigne to Chris Rock, there doesn't even seem to be a common denominator in some of the random celebrities that have taken the stage, other than the fact that they are just that, celebrities.
Taylor Swift while using her pop star powers to become friends with every celebrity known to earth, also uses her powers for good, too. Which is why even though the NBC sketch show deemed the growth of this squad to be world ending, cast member Aidy Bryant can't help but note that Taylor is "actually very generous to her friends", and starts to "feel her whole deal".
There are a few hysterical knocks to a couple of the Taylor Swift squaders that have become more popular recently. One in particular happened after Bryant had a surreal dream about a "model who acts now". But even as the women try and hide from the Swift squad, at the end, there's only one person to put your trust in, the ruler of them all, Taylor Swift.
You can catch more Saturday Night Live on Saturdays at 11:30 p.m. ET on NBC.
Your Daily Blend of Entertainment News
Thank you for signing up to CinemaBlend. You will receive a verification email shortly.
There was a problem. Please refresh the page and try again.