How The Kim Kardashian Robbery Could Affect Her Social Media Habits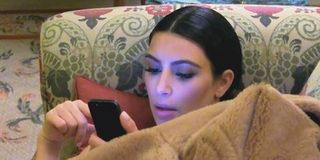 (Image credit: Keeping Up With the Kardashians)
One of the queens of social media may be stepping away from her throne. After her traumatic robbery in Paris, Kim Kardashian is reportedly going to be scaling back her presence on social media.
Apparently, Kim Kardashian is actually listening to some of her critics, who have accused her of being too public about her wealth and suggested that her constantly posting about her jewelry may have incentivized her robbers. Sources close to Kardashian say that the reality star is going to stop posting ostentatious photos that might display her wealth, TMZ reports. Additionally, when promoting her clothing lines and other fashion endeavors, Kardashian is going to attempt to showcase her products in a less extravagant manner.
The decision to scale back online comes after designer Karl Lagerfeld openly criticized Kim Kardashian for being too public with her wealth. After a Chanel show at Paris Fashion Week, Lagerfeld blamed Kardashian's social media postings for her recent robbery, CBS News reports.
Kim Kardashian is apparently taking the criticism to heart for reasons of safety, but she is not ashamed of the jewelry she's given. A source close to the Kardashians is saying that her husband Kanye West is planning on buying her even more extravagant jewelry to replace the pieces that were stolen from her, E! News reports. You probably won't be seeing them on her Instagram, though.
In my opinion, Kim Kardashian being told to post less on her personal social media platforms in order to avoid an armed robbery has a definite victim-shaming vibe. Shouldn't the blame really be on the robbers who broke into a woman's room, held her at gunpoint, bound and gagged her, and then stole over $10 million? And I'm willing to bet that these robbers knew Kim Kardashian was rich not because of her Instagram posts, but because she's Kim Kardashian --- how often she posts on social media doesn't change the fact that she's one of the most widely known celebrities in the world. Plus, what is social media for, if not showing off?
Then again, since many of Kim Kardashian's posts reveal where she's at, it probably is a good idea for someone of her level of fame to think twice before announcing her current location to the world.
Kim Kardashian is reportedly incredibly shaken after the robbery, and immediately left Paris to meet Kanye West at their New York apartment the night it occurred. While there has been an outpouring of support for Kardashian, some online have cynically speculated that she is fabricating the story. Sources have said that Kardashian finds those claims crazy.
Hang in there, Kim. Here's hoping we get some more Instagram posts soon!
Your Daily Blend of Entertainment News
Thank you for signing up to CinemaBlend. You will receive a verification email shortly.
There was a problem. Please refresh the page and try again.