One Thing Sarah Jessica Parker Regrets About Her Wedding Day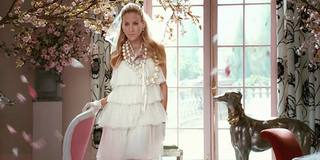 Sarah Jessica Parker's new HBO show may be called Divorce, but she's actually spilling about her wedding day. The actress and fashion icon appeared on Watch What Happens Live last week, and told host Andy Cohen that she regrets wearing a black dress to her wedding to Matthew Broderick.
After a caller describes Sarah Jessica Parker's choice to wear a black wedding dress "badass," SJP relents and says that she actually just picked out whatever the store that she went to had hanging on the racks.
What they had hanging was a black Morgane Le Fay gown (you can see pictures of it on Brides.com), which Sarah Jessica Parker picked out and wore to her 1997 wedding ceremony in New York. Parker has actually spoken about regretting the black dress before in a 2006 interview with Marie Claire. In that interview, SJP reveals that the reason she was embarrassed to wear white was that she didn't want to draw so much attention to herself, even on her wedding day. The wedding was also meant to be a surprise for Parker and Matthew Broderick's guests, and SJP showing up in a puffy white gown might have tipped off their friends and family.
The dress may not have been Sarah Jessica Parker's ideal choice, but the man definitely was. Parker and Matthew Broderick are now approaching their 20th anniversary, and have three children together. The year after her marriage, Parker began her starring role as Carrie Bradshaw on the long-running HBO dramedy Sex and the City, which became her most iconic role to date. SJP just returned to the HBO dramedy realm earlier this week with her new series Divorce, which premiered last Sunday.
Entertainment Tonight shared the segment of Parker's interview on Watch What Happens Live. Check the clip out below (or watch the full episode here.)
Aside from past fashion regrets, Sarah Jessica Parker also spoke to Andy Cohen about her encounter with Kim Kardashian and Kanye West last month. Parker had taken her teenage son James Wilkie Broderick to one of Kanye West's concerts in Madison Square Garden, and she says that she was a big fan of both Kanye and Kim. Apparently, Kardashian found out that James is a huge Kanye fan and set it up so that he could meet her husband, and Parker noted how "lovely" and "warm" the couple was to both her and her son.
Your Daily Blend of Entertainment News