Hacker Involved In The Celebrity Nude Photo Fiasco Just Got Prison Time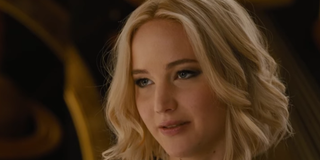 (Image credit: "Passengers" trailer)
First J-Law reprimanded him and now the actual law is stepping in. One of the hackers involved in the huge celebrity nude photo leak two years ago was just officially sentenced to prison.
Ryan Collins, a 36-year-old man from Lancaster, Pennsylvania, was sentenced to 18 months in federal prison on Wednesday, The Wrap reports. Collins first pleaded guilty to one account of unauthorized access to a private computer back in March after he was brought in on his connection to the high-profile leak. In the sentencing process, Collins was facing up to five years in prison, but the 18-month sentence that was settled upon fell within the recommended amount of time.
According to the proceedings, Ryan Collins was involved in the process of hacking into the accounts of various celebrities and getting personal photographs of them. Collins may not have worked alone, and no evidence came out to suggest that he was the person to actually share the photographs that he had obtained online.
Ryan Collins ran a phishing scheme from 2012 to 2014, in which he would ask for users' personal information in emails that were made to appear as though they were sent from trusted sources like Google or Apple. With the information he obtained, Collins was able to use usernames and passwords to access his victims' iCloud accounts and download nude photographs saved there. Collins specifically targeted female celebrities, and his two-year scam resulted in the famous leak of the photos he had obtained at the end of 2014.
Over 100 people were exposed in the nude photo leak, which became jokingly referred to as "The Fappening" or "Celebgate." The most notable celebrities affected included Jennifer Lawrence, Kate Upton, Kirsten Dunst, and Kaley Cuoco. After nude photos of her were leaked, Jennifer Lawrence was quick to bring harsh legal terms into the incident, calling the leak a sex crime. She also rebuked any online users who sought out the leaked photos of her, saying that they were complicit in perpetuating the sexual offense and should be ashamed of themselves.
Just last month, another man pled guilty for a similar hacking crime that was connected to the celebrity nude photo leak. Edward Majerczyk of Chicago, Illinois similarly pled guilty to one account of unauthorized access to a private computer, according to the Chicago Tribune. The 29-year-old admitted to also targeting celebrities in his phishing scheme, and similarly to Ryan Collins, confessed only to obtaining nude photographs, not to distributing them. Majerczyk is due for sentencing in January, and apparently he is seeking about half the prison time that Collins was given. In his questioning, Majerczyk said that he learned how to perpetrate this type of hacking scheme from another individual online, though authorities believe that the two men worked independently of one another.
Your Daily Blend of Entertainment News
Thank you for signing up to CinemaBlend. You will receive a verification email shortly.
There was a problem. Please refresh the page and try again.