Kylie Jenner Made Lasagna And Of Course Turned It Into A Chance To Sexy Pose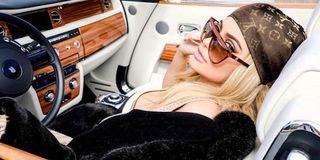 When you think of food associated with sexy photoshoots, what do you think of? Maybe chocolate strawberries, or ice cream. Lasagna probably isn't the first thing that came to mind; in fact, it might even be the least sexy of all the pastas. But Kylie Jenner was never one to exactly play by the rules. The youngest Jenner girl turned up the heat both in and out of her oven on Thursday night when she had a sexy photoshoot in her kitchen to pass the time while her lasagna cooked.
Kylie Jenner captured the whole shoot on her Snapchat account, as she wore a nude-colored crop top with matching underwear, which were barely concealed by low-riding white sweatpants. Jenner first told her fans in a quick video that she and her BFF, model Jordyn Woods, were going to start making lasagna.
Immediately afterwards, Kylie Jenner uploaded a photo of herself teasingly pulling down her sweatpants. The only indication of the fact that this was occurring during the lasagna-making process is the word "Lasagna" floating next to Jenner's body.
And that "Lasagna" just continued to orbit around Kylie Jenner, landing on the Kardashian family's most famous attribute as our master chef looked back from the countertop.
Finally, we do get the proof that Kylie Jenner actually did make lasagna at the end. Despite the fact that Jenner's photos displayed absolutely no ingredients and her countertops remained pristine throughout the photoshoot, she provides us with a shot into her oven of the tin foil-covered lasagna.
After all the cooking, Kylie Jenner switched over to her Instagram account to wish her fans a good night. Hopefully she didn't go to bed right after eating all that lasagna!
As evidenced by the impressive skill shown in that lasagna-making, it seems pretty clear that we have a new celebrity super chef in our midst. Sorry, Bobby Flay and Ina Garten, but you will have to step aside and make room for Kylie Jenner. I'm sure she will have her own Food Network show by the end of the month.
Your Daily Blend of Entertainment News