This Burger King Restaurant Dressed Up As McDonald's For Halloween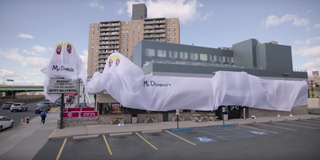 (Image credit: Burger King)
The best Halloween costume this year might just go to a building, not to a person (sorry, I'm sure your Eleven from Stranger Things costume looks great). A Burger King restaurant in New York got into the Halloween spirit a bit earlier by poking a little playful fun at its biggest competitor McDonald's.
Employees at the Rego Park, New York store covered the restaurant in a giant white tarp with "McDonald's" scrawled across it, reports local station Fox Q13. The large sheets include two eyeholes to mimic a ghost costume, where the Burger King logo can still be partially displayed. Above them are the McDonald's golden arches.
But the Burger King didn't just stop with the tarp. The store also McDonald's-ified its sign, and placed a cheeky message beneath.
The shady Burger King costume became such a hit online, that the franchise shared a video of the store on its official YouTube page, giving viewers a full look at the fast food fright-fest.
But it's not only the outside of the restaurant that is going all-in on this McDonald's gag. While the Burger King is still serving its normal menu, as the sign promised, it is also adding a little twist to its food by serving its burgers in McDonald's-labeled containers, which open to reveal the same message as the sign out front.
McDonald's was already undergoing a kind of scary time even before this Halloween joke from Burger King. The fast food chain announced a few weeks ago that it will be keeping its clown mascot Ronald McDonald out of the public eye until the United States' troubling rise of murders linked to people dressed as clowns begins to fall.
Though the nation is definitely on high alert for terrifying clowns right now, it's safe to say that the scariest clown in Burger King's eyes is none other than Ronald himself.
Your Daily Blend of Entertainment News