Kendall Jenner Looked Off-The-Charts Gorgeous At Her Birthday Party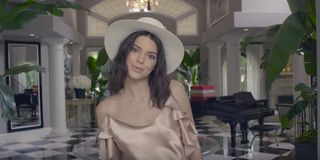 Kendall Jenner's 21st birthday bash on Wednesday night was the talk of the town --- and the extravagant, eye-catching party dress that she wore to the event is probably the major reason why! Jenner partied the night away in a slinky, sparkly custom dress with a plunging neckline to ring in her legal drinking age.
The birthday girl quite literally shone bright like a diamond in a Labourjoisie dress that was custom-made with Swarovski and crystal mesh, reports E! News. Kendall Jenner posted photos of the radiant party dress to her Instagram on Thursday, her actual birthday, writing that she was channeling "vintage Paris Hilton vibes" with the look.
The dress is reminiscent of the high-hemline, halter-top, sparkly party dresses that became synonymous with socialite Paris Hilton's style when she was most heavily featured in the tabloids in the early- to mid-2000s. Clearly, Kendall Jenner nailed the look, as even Hilton herself --- who was at the birthday party Wednesday night --- gave it her stamp of approval in a comment on the photo, writing that it "slayed."
But aside from showing off a gorgeous new dress, the real reason Kendall Jenner was ready to party is that she is finally of legal drinking age. Younger sister and Snapchat superstar Kylie Jenner was on hand at the party to catch a video of Kendall indulging in a bottle of wine during her celebration at a Los Angeles nightclub.
But the biggest moment of the night didn't come until towards the end, when Kendall Jenner started receiving her presents. In a total My Super Sweet Sixteen move (do you guys remember that show?), Jenner wound up taking home a new car during her birthday party. Big sister Khloe Kardashian snapchatted video of Jenner covering her mouth in shock and excitement when a dark car with a big bow on it rolled up to her party on Wednesday night.
And the new car wasn't the only glamorous surprise. Reportedly, Kim Kardashian and husband Kanye West snuck into the soiree around midnight with a cake for Kendall Jenner, making a rare public outing since Kardashian was robbed at gunpoint in Paris last month. The rest of Jenner's family, including Kylie Jenner, Kourtney Kardashian, and Kris Jenner, were all in attendance as well.
Your Daily Blend of Entertainment News