How Much Kanye West May Have Actually Spent On A Couch He Hates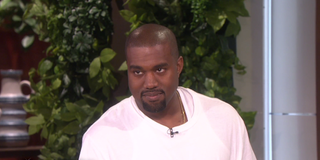 (Image credit: The Ellen DeGeneres Show)
When Kanye West doesn't like something, he doesn't exactly play it subtle. Reportedly, the rapper wasn't feeling the decor his interior designer had bought for his new home, and when he was told that he couldn't return the furniture, he allegedly just threw it into storage and got started on buying new items.
Kanye West apparently share the same vision as his interior designer Sandy Gallin --- after the former talent agent spent "nearly all of [West's] money" on decor for his new Calabasas home, the rapper was so unhappy with the furniture that he simply got rid of it all without a refund and fired Gallin, Page Six reports. Among the offensive decor was one $30,000 couch that West apparently could not stand. Determined to get rid of the recently purchased pieces, West attempted to return them, but the original vendors turned him away, so West just threw it all in storage and got to work redecorating.
The insider goes on to say that Kanye West's perfectionist behavior is starting to get on wife Kim Kardashian's nerves. Apparently, she just wants to be able to move into the new home and be settled, but West's outbursts have prolonged the whole process. The insider says that especially following her recent robbery at gunpoint in Paris and the fact that she has stopped being so public in the aftermath, Kardashian is just looking for a new home base to settle into. Whether or not things are exactly as they're being reported, who knows? But given what Kim Kardashian has been through, it wouldn't be surprising if she's anxious to feel at home in her house.
Kim Kardashian and Kanye West's Calabasas mansion has been under construction for a little over two years now. Kardashian purchased the $20 million estate back in August of 2014, and the couple has sunk millions of dollars and countless hours into its complete renovation. The supercouple have already had a two-story playroom built for their children North and Saint West, along with a recording studio for West, and a hair salon for Kardashian. And that's not to mention the movie theater, spa, gym, and outdoor entertaining pavilion that they also had constructed.
I think it's pretty safe to say that when the construction is finally done, the Kardashian-West manor is going to be the envy of all --- that is, if the multi-million dollar mansion ever reaches the couple's lavish standards. One think is for damn sure though: nobody will be seeing that $30,000 coach ever again. I wonder what Kanye thought was so terrible about it? Did Taylor Swift recommend it or something?
Your Daily Blend of Entertainment News