Britney Spears Just Dropped A New Music Video, And It's Sultry AF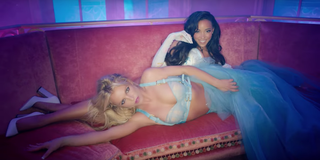 You can leave your sleeping bags and blankets at home for Britney Spears' slumber party. The pop singer just released the sultry new video for her latest single "Slumber Party," and called in the help of up-and-comer Tinashe to create one of her steamiest music videos ever. Check out the world's least slumber-filled slumber party below.
The video follows Britney Spears as she arrives at a mansion filled with multi-colored lights, bubbles, and scores of feverishly groping couples --- picture Eyes Wide Shut with less masks and more foreplay. Spears makes her way up the staircase to change into a billowy blue tutu and seductively murmur her verses in a steam-filled room. Enter Tinashe, clad in a matching blue and white bodysuit, as she and Spears teasingly caress each other on the couch. The video goes on to showcase the two singers in a fun dance break, and crooning the R&B-tinged chorus in a pile of writhing bodies.
For hardcore Britney Spears fans, "Slumber Party" has some familiar touched. The look and concept of the new video (directed by Colin Tilley, who is best known for his work with Justin Bieber and Nicki Minaj) harkens back to Spears' 2002 video for her single "Boys." In that video, Spears also wanders around a large mansion filled with sexy, libidinous guests, except she ends up focusing her attention on Austin Powers rather than Tinashe. The scene in "Slumber Party" in which Spears crawls across a long dining table towards a male model also somewhat recreates her iconic backlit, diamond studded look in her "Toxic" video that also shows Spears crawling towards the camera.
Being a part of the remix and video was a dream come true for Tinashe. The young R&B first made waves in 2014 with her top 40 single "2 On," and has risen from an indie mixtape artist to pop superstar in recent years --- her second album Nightride was just released earlier this month. While rumors were still swirling in that Britney Spears was going to include Tinashe on a remix of her Glory track, Tinashe took to Instagram three weeks ago to not only confirm them, but reveal that Spears is one of her idols and that being able to collaborate with her has left her "wigless and dead" (in case you don't speak millennial pop fan; that means she really enjoyed the experience).
I think it's safe to say we really ain't gonna sleep tonigh-igh-ight --- we'll be too busy watching this video on repeat!
Your Daily Blend of Entertainment News