The Original Cindy Brady Was Fired From Her Job For A Homophobic Rant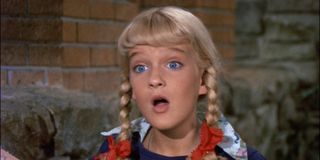 (Image credit: The Brady Bunch)
Cindy Brady isn't that sweet little girl that we all remember... Up until last week, former The Brady Bunch star Susan Olsen was actually a political radio show host, but that recently changed after she made a few choice comments about a recent guest on her show.
Susan Olsen has been fired from her political radio show after a homophobic rant she sent to a recent guest was made public on Facebook, Fox News reports. LA Talk Radio announced on Friday that Olsen was let go from her show "Two Chicks Talkin' Politics" once hateful remarks against recent guest Leon Acord-Whiting came to light online. After appearing on Olsen's radio show, Acord-Whiting, who is openly gay, shared a screenshot of an expletive-filled message that Olsen had sent him, which included use of a homophobic slur.
Susan Olsen's remarks were in response to Leon Acord-Whiting posting to Facebook that it was "irresponsible" for LA Talk Radio to give Olsen a platform, accusing her of spreading "outrageous misinformation" due to her admittedly extreme-right conservative political leanings. On Friday, LA Talk Radio confirmed Olsen was fired in a Facebook post clarifying that the station values the LGBT community and does not tolerate hateful speech.
Susan Olsen hasn't posted to her Facebook account since the termination was announced, but had posted multiple rants against Leon Acord-Whiting prior, though none containing any homophobic slurs. For his part, Acord-Whiting shared his pleased but pragmatic response, referring to the event as a "course correction" rather than a victory. Acord-Whiting has also shared that he's turned down press appearances related to Olsen's firing.
Hopefully this termination means that the exhausting Facebook feud between Susan Olsen and Leon Acord-Whiting is officially over. For now, it looks like Cindy Brady hasn't outgrown time outs just yet, and she just got hit with a big one.