Reports Of Kim And Kanye's Massive Therapy Bills May Have Been Exaggerated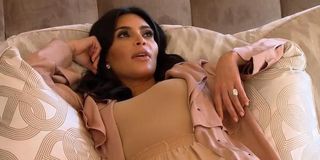 (Image credit: Keeping Up With the Kardashians)
Nobody knows exactly what is going on between Kim Kardashian and Kanye West right now. Normally, Kardashian is pretty much an open book because of her constantly filming reality show and ubiquitous social media presence, but since she was robbed at gunpoint in early October, the reality star hasn't made a peep online or otherwise, even after West was hospitalized for a reported mental breakdown. This has left tabloids with nothing to do but speculate at the health of the Kimye marriage, spreading rumors of conflict and possibly divorce. But in actuality, it seems like things in the Kardashian-West household aren't nearly as dire as the headlines in the grocery store checkout line are making them seem.
One example of this is a recent OK! Magazine report that Kim Kardashian and Kanye West are blowing a fortune on couples therapy to try to fix their relationship, a claim that rumor-busting site Gossip Cop is totally disputing. The OK! article cites a source that claims Kardashian and West are spending over $100,000 per month on couples counseling, and are receiving two therapy sessions a day in the wake of West's recent hospitalization. Gossip Cop, however, refutes the claim that the pair are receiving any therapy as couples, saying that the therapy either spouse may have received has been on an individual basis, and that the dollar amount reported by OK! is way off mark.
This contested Kimye story comes just a week after Us Weekly was reporting that Kim Kardashian was planning to divorce Kanye West. E! News bluntly refuted those divorce rumors following the tabloid article, but many fans still have some suspicions about what's going on between the two celebrities in the wake of a particularly traumatic couple of months. After Kanye West was released from his eight-day stay at UCLA Medical Center, the rapper pretty much jumped right back into his highly publicized lifestyle by taking a meeting with President Elect Donald Trump. On the other hand, Kim Kardashian has dealt with her robbery by becoming uncharacteristically reclusive, and reportedly she was hoping her husband would also take a break from the public. Despite these rumors of tension, the couple confirmed that they would be coming together to celebrate the holidays together with their children Saint and North West.
Although Kim Kardashian and Kanye West may not be going to couples therapy, West is reportedly getting in patent therapy sessions from home following his recent hospitalization. West was checked in to a hospital a few weeks ago after his physician reported that he was undergoing a temporary psychosis resulting from dehydration and exhaustion. Kardashian flew to Los Angeles when she heard the news and spent West's eight-day stay at his bedside.
If something major does go down between Kim Kardashian and Kanye West, I'm pretty positive that they'll make sure we all of us know about it when it happens. Until then, don't believe everything you read.
Your Daily Blend of Entertainment News
Your Daily Blend of Entertainment News
Thank you for signing up to CinemaBlend. You will receive a verification email shortly.
There was a problem. Please refresh the page and try again.