Khloe Kardashian Explains Her Reaction To Kim's Terrifying Robbery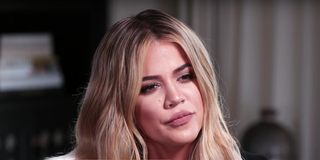 (Image credit: TODAY)
Kim Kardashian underwent a serious trauma three months ago when she was held at gunpoint and robbed in her Paris hotel room, but thankfully she made it out of the incident unharmed and had the support of her family in the aftermath. Now Kim's younger sister Khloe Kardashian is opening up about how she reacted when she heard about the life-threatening robbery.
In an interview with TODAY to promote her new E! show Revenge Body, Khloe Kardashian revealed that she thanked God back in October when she learned that her sister was threatened with a gun and robbed of an estimated $5.6 million in jewelry. Kardashian recalled that her immediate response to the news was prayer, followed by thankfulness that Kim managed to survive the encounter.
In the aftermath of the robbery, some people questioned how much Kim Kardashian's frequent, opulent displays of her jewelry on social media may have motivated her assailants. The day of the robbery, Kardashian had uploaded a photo of herself showing off a massive diamond ring on her Instagram; that ring was one of the pieces stolen from her later that night. Designer Karl Lagerfeld commented to Reuters that Kardashian shouldn't be surprised that she was robbed after displaying her wealth so publicly. Though Kardashian did leave social media for three months following the robbery, Khloe is sticking up for her sister, pointing out that it's really unfair to turn around and blame Kim for the robbery simply because she likes to post about her life.
Check out Khloe Kardashian's full interview below.
Thankfully, now things are looking up for the Kardashians. Kim recently made her long-awaited return to social media, and the Paris police department has just officially charged three men on multiple counts related to the robbery, E! News reported. At the beginning of this week, the police had arrested 17 people on suspicion of their involvement, including Kardashian's Paris driver.
Kim Kardashian has been coming to terms with the high-profile investigation and rumors about trouble within her marriage by getting back into the swing of things on social media. The reality star has been posting photos of her home life with husband Kanye West and their two kids North and Saint West after rumors had begun surfacing that the celebrity couple may be in a rough patch after West was recently hospitalized for a reported temporary psychosis. In her interview, Khloe Kardashian laughed off those rumors by saying their family is so used to having ridiculous things said about them in the tabloids that they don't even address those types of rumors anymore.
Your Daily Blend of Entertainment News
Your Daily Blend of Entertainment News
Thank you for signing up to CinemaBlend. You will receive a verification email shortly.
There was a problem. Please refresh the page and try again.