Paris Jackson Is Convinced Her Father Was Murdered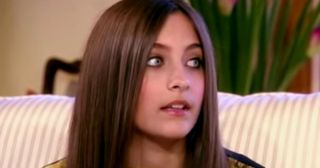 (Image credit: Paris jackson with oprah)
The untimely death of Michael Jackson back in 2009 still looms large over pop culture almost a decade later, and for the late pop star's daughter, it fills her with both sadness and a thirst for justice. Paris Jackson is opening up about her father's death, calling it a murder.
In a recent cover story for Rolling Stone, Paris Jackson said that she believes her father was purposefully murdered. Jackson recalls times in her childhood when her father would tell her that there were people out to get him. After Michael Jackson did die of substance intoxication the summer of 2009, Paris grew convinced that he had been murdered, a conviction that she reaffirms to this day. Though Paris Jackson does admit to it sounding like a conspiracy theory, she sounds one hundred percent confident in her assertion.
Michael Jackson was found dead from acute propofol and benzodiazepine intoxication, and his physician Dr. Conrad Murray was tried and convicted of involuntary manslaughter for administering the drugs. Paris Jackson blames Murray for her father's propofol dependency in the final months of his life, but not only him. The 18-year-old vaguely claims that "a lot of people" wanted her father dead.
One of the groups of people that Paris Jackson blames is the concert promotion company AEG Live. The Jackson family filed a wrongful death lawsuit against the company, which was promoting the "This Is It" comeback concert series that Michael Jackson was preparing to go on when he died. The company had also hired Conrad Murray to be Jackson's physician. The Jacksons lost that suit a few years ago, but Paris has not lost her anger at AEG. She recalled the exhaustion that she saw in her father when he was rehearsing for their shows, and how sad and scared it had made her.
As has always been her style, Paris Jackson plans to continue to fight for justice for her father. Although she wouldn't get into specifics about who she believes killed Michael Jackson or how they did it, she has plans to expose the truth. When asked if she wanted revenge or justice for her father's murder, Paris coyly said that it's something she is working on.
I just got chills reading that! If there really was going on with Michael Jackson's death than we know, then I am confident in Paris Jackson to get to the bottom of it.
Rolling Stone's article is full if interesting insights from Paris Jackson. You can read the full piece here.
Your Daily Blend of Entertainment News
Your Daily Blend of Entertainment News
Thank you for signing up to CinemaBlend. You will receive a verification email shortly.
There was a problem. Please refresh the page and try again.