Rob Lowe Is Looking For A Personal Assistant And The Qualifications Are Just The Best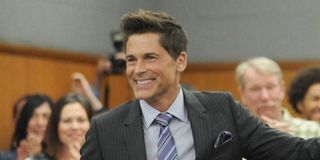 (Image credit: The Grinder)
For the Hollywood-obsessed, working for a celebrity sounds like a dream come true. That is, until you remember that because of those luxurious and high-profile lifestyles, celebrity assistants are asked to do much stranger things for their bosses than just pick up the dry cleaning.
Take Rob Lowe for example: maybe you'd go into an assistant's job for Lowe assuming he'd be constantly upbeat and chipper like his Parks & Recreation character Chris Traeger, or that he'd be determined and quick-witted like his West Wing character Sam Seaborn. Whatever you assumed, it definitely wouldn't prepare you from what are allegedly Lowe's actual expectations for an assistant.
According to TMZ, Rob Lowe is currently in the market for a new personal assistant, and he or she must come equipped with a special set of skills, such as keeping him fed and caffeinated all day, every day and lifting a mysterious 25 pounds every so often. Check out the listed requirements below.
Before I comment, TMZ's report does say that Rob Lowe's team told them the job listing doesn't match anything that the star has posted, however the site's source insisted that it is indeed Lowe's job listing. So there's a bit of conflicting info here in terms of the validity of this list. All the same, it's too fun not to want to believe it.
First of all, this list with "Never assume anything" really takes the sketchiness level all the way up to 100 right out of the gate. Once the assistant properly has their assumptions in check, they should probably make really good friends the Starbucks workers and barbers nearby, since apparently he or she is going to need to make a whole lot of coffee runs and haircut appointments. Then he or she can train for when it comes time for Lowe to hand off a 25-pound weight for whatever reason. But the job does pay $70,000, so the mystery might be worth it!
That part where it says "schedule haircuts every episode" is most likely referring to every episode of the CBS medical drama Code Black in which Rob Lowe appears. He was added as a main character in the currently airing second season of the show. He's also got two comedy movies coming out this year: the buzzy sequel Super Troopers 2 and the Salma Hayek-starring How to Be a Latin Lover.
Your Daily Blend of Entertainment News
Your Daily Blend of Entertainment News
Thank you for signing up to CinemaBlend. You will receive a verification email shortly.
There was a problem. Please refresh the page and try again.