How George Clooney Will Be As A Dad, According To Matt Damon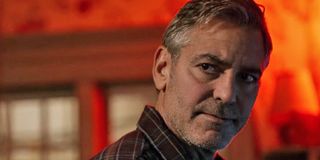 As we reported last month, successful barrister of international law and advocate for human rights Amal Clooney and her movie star husband George Clooney are expecting twins this year. Naturally, George Clooney has been gushing about his wife and their exciting news in recent interviews. Now one of George Clooney's friends and biggest fans in Hollywood, Matt Damon, is offering his thoughts on the kind of father the Money Monster actor might make. Here is what Damon said in a recent interview:
Matt Damon gave his lighthearted input on the situation in an interview with Entertainment Tonight. Sure, Damon was half joking because parenthood is never easy, but Damon also knows 55-year-old George Clooney well. After all, they have worked together on several projects, including the upcoming film-noir crime comedy that stars Damon and Julianne Moore, Suburbicon, which the Coen brothers wrote and George Clooney directed.
Matt Damon has recently doubled down on his recent words of adoration for his close colleague George Clooney's work as an actor and director. Damon explained that Suburbicon was the fifth film in a row for him, but he jumped at the opportunity to work with Clooney again. In fact, Damon freely admitted he wants Clooney to hire him for another gig in the future, and he even declared that he would "do the phone book" with his longtime pal. Come to think of it, that suggestion sounds like a good idea for a sketch on The Late Late Show with James Corden.
It will be lovely to see Mr. and Mrs. Clooney as parents and pushing strollers with their two little bundles of joy arrive. (Those kids are going to be super cute!) Yes, Matt Damon could be correct. Mom and Dad Clooney could have a mess of a time getting used to parenthood, but having kids is always a major adjustment whether you are a celebrity or not. Also, we love that Matt Damon said Amal Clooney would be the one to take care of everything, but something also makes us think there will not be a lack of helping hands to keep things moving around the Clooney household.
Both George Clooney and Amal Clooney are extraordinarily successful in their professions, and people in their industry seem to love them. Maybe they can ask Matt Damon to babysit sometime; he did say he would like another gig from George Clooney. (Now, that idea seems like a sketch tailored for Jimmy Kimmel Live!) Nevertheless, they will surely have their hands full, so it might be a wise decision for them to carve out some time to take care of any last minute time-consuming business, such as binge-watching all of those Batman movies that George Clooney has missed since the '90s.
Your Daily Blend of Entertainment News
Thank you for signing up to CinemaBlend. You will receive a verification email shortly.
There was a problem. Please refresh the page and try again.