Johnny Depp Is Dealing With More Legal Trouble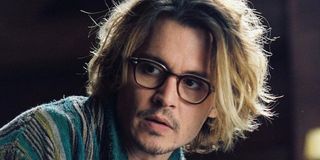 Being a manager of Johnny Depp cannot be an easy gig. Depp's personal life reads almost like a movie, with highly publicized scandals from divorces to injuries to legal battles. Now his former business management team, The Management Group (TMG), is fed up because of how frustrating it has been to handle Depp's personal matters, and the company plans to take the Pirates of the Caribbean: Dead Men Tell No Tales actor to court.
TMG's suit is a countersuit in response to legal action Johnny Depp took in January. Depp sued TMG, which managed his assets from 1999 to 2016, for $25 million and accused the company of fraud and negligence. However, now TMG has hit back at Depp with allegations that the Pirates of the Caribbean star is "a habitual liar," according to USA Today. Per the countersuit, Depp makes irresponsible spending decisions and tosses excessive amounts of cash at shallow purchases, such as expensive art, fine wine, lavish properties, private jets, and an enormous yacht. The company accused Depp of leading an "ultra-extravagant lifestyle" that requires "profligate" spending of millions of dollars per month. It should be noted that, Johnny Depp has denied his spending is a problem. The 53-year-old movie star put the blame for the mishandling of his assets squarely on the shoulders of his former management team. In fact, regarding the company's accusations about how much Depp spends and how he invests his money, Depp himself said,
In fact, Johnny Depp had an audacious response when TMG claimed he spent $3 million to fire the ashes of the legendary journalist Hunter S. Thompson from a cannon at the writer's funeral. Peeved, the actor said TMG undervalued the real $5 million it cost for the display. In other words, Depp was not going to let his former management team off the hook, and he was not going to be made to feel bad about his over-the-top spending because, at the end of the day, he feels the money is his to spend.
In recent times, Johnny Depp's reputation has taken a hit due to scandals in his personal life. His marriage to ex-wife Amber Heard was messy, but the divorce was even worse. During the marriage, the spouses also took heat for bringing dogs to Australia in an illegal way. Then claims Depp was drinking too much segued into domestic abuse allegations. Nothing about the divorce appeared to be amicable. Still, there are rumors Depp has been sober for months and even enlisted help from a sober companion, which indicates he is getting his personal life back on track. It would be great to see Depp leave the scandals in the past and move forward in a positive direction once this latest legal battle comes to and end. We'll just have to wait and see if he can get his finances in order, too.
Your Daily Blend of Entertainment News