Looks Like Amber Heard Has Already Moved On From Johnny Depp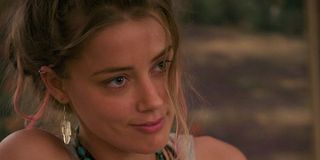 Last year, Amber Heard was at the center of a media storm regarding the end of her two-year marriage to Johnny Depp. The word from the 31-year-old actress was that domestic abuse caused the fallout of the marriage, but Depp denied those rumors. Nevertheless, the couple split from the toxic relationship. Now it appears Heard has moved on with a new man, billionaire inventor Elon Musk. Amber Heard seemed to confirm the speculation that she and the Tesla entrepreneur were together when she posted a "cheeky" photograph of them for her social media followers. Check out the photo and continue reading below for details on the budding relationship.
Amber Heard posted the photograph on her Instagram account and added the caption "Cheeky" to make sure we did not miss the red lipstick on Elon Musk's face. In fact, Musk posted a nearly identical photo to his social media, and his caption let us know the two were at the posh restaurant Moo Moo Gold Coast in Australia. The picture has come out nearly a year since people first spotted Heard and Musk together in Miami and London. Although the couple has yet to speak about their relationship, this photograph seems to indicate they are officially a pair. After all, people close to Heard, including her father, have indicated that the Aquaman actress and the SpaceX developer are not only together but thinking about marriage and kids.
If Amber Heard and Elon Musk were to put a ring on it, it would mark the third marriage for Musk, who was previously married to Canadian author Justine Musk from 2000 to 2008 before marrying, divorcing, and remarrying English actress Talulah Riley between 2010 and 2016. Musk has six children, so a Musk wedding would mark the second time Heard took on stepmom duties.
The breakup of Amber Heard and Johnny Depp came about a year after Depp injured his hand on the set of Pirates of the Caribbean: Dead Men Tell No Tales, an injury Heard allegedly claimed Depp himself caused by punching a wall out of frustration. When Heard filed for divorce from Depp in May 2016, she cited irreconcilable differences and asked for spousal support. She also claimed Depp had thrown a cell phone at her face, which caused a bruise near her right eye. A representative for Depp denied the accusations and blasted them as "salacious false stories, gossip, misinformation, and lies" related to his person. The road to divorce reached a resolution in August 2016. By then, the paparazzi had already spotted Heard out with her new beau, Elon Musk.
The relationship between Amber Heard and Johnny Depp certainly sounded toxic by the end of the marriage. So, it is nice to see Heard moving on with someone new in Elon Musk. Although the couple appears to be happy in their new romance, it could be wise for them to take some time before diving into married life again. Regardless, we will keep an eye on this new duo, so keep your eyes peeled for details.
Your Daily Blend of Entertainment News
Your Daily Blend of Entertainment News
Thank you for signing up to CinemaBlend. You will receive a verification email shortly.
There was a problem. Please refresh the page and try again.