Flip Or Flop's Christina El Moussa Dealt With Child Services After Son Fell In Pool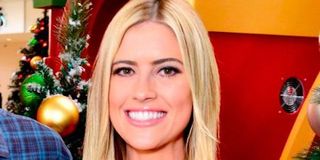 Christina El Moussa of HGTV's Flip or Flop is having a tough time after a backyard pool accident involving her son, Brayden El Moussa, who is not yet two years old. Evidently, the young boy fell into the pool when the family's nanny was looking after he and his six-year-old sister, Taylor El Moussa. Christina El Moussa herself was not home at the time. Nevertheless, agents from Children and Family Services received word of the possibly avoidable accident and had a talk with both the prominent real-estate investor and the nanny.
Reportedly, Christina El Moussa returned to her home in Orange County, California after the nanny had discovered Brayden El Moussa in the pool. As ET tells it, the 33-year-old television personality and the nanny proceeded to rush the young boy to the hospital for an evaluation to be on the safe side. Although they learned the child would be all right, they still had to speak with Children and Family Services agents at the hospital, as it is the protocol of the people from the department to talk to parents and guardians of children involved in such accidents. Luckily, the agents determined there was not a problem.
Of course, it is great young Brayden El Moussa was okay. However, it is worth noting Christina El Moussa caught some heat from her followers on social media earlier this year when she posted an Instagram photo of her son standing noticeably close to a pool. During that particular incident, El Moussa defended herself against the critics by sarcastically thanking them for their concern (and then likening it to judgment. El Moussa later removed that picture after the prickly interactions.
The report of Brayden El Moussa's pool accident is not the only sour news swirling around Christina El Moussa these days. She and her estranged husband, fellow Flip or Flop cohost Tarek El Moussa, recently filed for divorce. They separated around this time last year, when Christina El Moussa called the police to inform them her husband had left the house with a firearm after a spat and she worried about his safety. The police dispatched a helicopter and 11 police officers to track him down. When the officials found Tarek El Moussa in Chino Hills State Park, the 35-year-old television personality maintained he had gone hiking and brought a gun for protection. Regardless, the couple separated in the wake of that news, and then Tarek El Moussa filed for divorce in January of this year. Since then, Christina El Moussa has indicated she and her estranged husband are on better terms and working together to co-parent their two children.
Navigating a high-profile split is undoubtedly difficult, but it is likely even harder with scary moments like pool accidents, hospital visits, and talks with Children and Family Services agents. Hopefully, the family flips to happier stories soon.
Your Daily Blend of Entertainment News
Thank you for signing up to CinemaBlend. You will receive a verification email shortly.
There was a problem. Please refresh the page and try again.