What Reportedly Happened In Chris Cornell's Final Minutes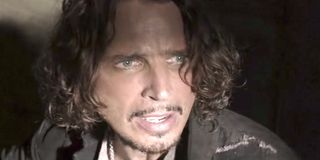 The crushing news about Chris Cornell's death by suicide shook the world of music last week. Now the 52-year-old singer's grieving widow, Vicky Cornell, is bravely beginning to open up about the terrifying events that led up to her husband's death. Apparently, she detected something was wrong with her husband when she spoke to him on the telephone about half an hour before he died in his hotel in Detroit, Michigan.
Evidently, Chris Cornell returned to his hotel room after wrapping up a gig at the Fox Theater in Detroit. As TMZ tells it, Chris Cornell had an app on his phone that let him dim the lights in his and Vicky Cornell's home remotely, so when Vicky Cornell noticed the lights dim in the house, she called Chris Cornell to ask if he had done it. Apparently, her husband gave a disturbing answer and began slurring his words, and she had a flashback to 14 years ago when Chris Cornell was actively abusing substances, such as alcohol and OxyContin. Vicky Cornell demanded to know if he had taken drugs, but Chris Cornell denied taking more than two Ativan to calm his nerves, and he became upset with his wife.
Vicky Cornell reportedly felt a wave of panic come over her, so she hung up and called Chris Cornell's bodyguard, whom she told to break down the door. Then she called the hotel staff and pleaded with them to rush into the room and help her husband because she knew something was happening. Sadly, by the time the bodyguard and hotel staff had opened the doors, the frontman for Soundgarden and Audioslave had died by hanging. Moreover, his arms supposedly had new track marks. It could take a long time for the toxicologist's report to shed light on what exactly was (or was not) in Chris Cornell's system when he passed away; however, Vicky Cornell denied knowing Chris Cornell to use needles.
Nevertheless, Chris Cornell reportedly tried heroin for the first time at the age of 12. He battled various forms of addiction until he became sober in 2002. By then, Cornell had weathered career highs and lows with both Soundgarden and Audioslave, the group he formed with three members of Rage Against the Machine. In the wake of Cornell's death, his manager, Ron Lafitte, told reporters neither he nor the band members saw any trouble on the horizon. In fact, Lafitte said Cornell had indicated how excited he was about his upcoming musical efforts and how he was ready to make music history with his future works.
This story is devastating. We'll keep you posted with any updates. For now, our hearts go out to the Cornell family.
Your Daily Blend of Entertainment News
Thank you for signing up to CinemaBlend. You will receive a verification email shortly.
There was a problem. Please refresh the page and try again.