We Finally Know What Happened Right After Lamar Odom Woke Up From His Coma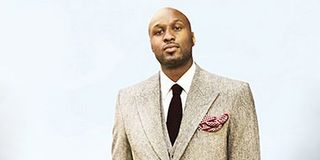 Not so long ago, the outlook looked grim for former NBA star Lamar Odom when he was found comatose in a brothel near Las Vegas in October 2015. The ex-husband of Khloe Kardashian suffered a dozen strokes and two heart attacks in the aftermath of that blunder, and now he is discussing the first things he saw and thought when he opened his eyes in the hospital bed after surviving the terrifying drug-induced coma. Here is what he said about the intense emotions he felt when he came to and found Kardashian by his side:
Lamar Odom spoke with Us Weekly to talk about his battle with addiction and the struggles that led to his divorce from Khloe Kardashian. In January, Odom finished a stay at the Casa Palmera rehab center in San Diego, and he says he is now clean and sober. However, Odom's road to recovery hit a low bottom in the hospital.
Khloe Kardashian discovered Lamar Odom abusing cocaine at some point during their marriage. Odom said Kardashian tolerated the drug use but did not accept it. She had already filed for divorce from Lamar Odom when she received the devastating news about his hospitalization. However, Kardashian decided not to finalize the divorce until May of last year, when she refiled divorce documents after pictures surfaced of Odom drinking at a shopping mall in Los Angeles. According to Odom, he and Kardashian have not been intimate in years, but he feels especially grateful for the time she devoted to him between his hospitalization and the divorce.
Lamar Odom also explored ways that his drug use led to the end of his career. He indicated that cocaine became more important than working on his marriage and training for his job. He lost his desire to stay in shape and his sex drive. Eventually, Lamar Odom reentered rehab with the encouragement of his eldest child, daughter Destiny Odom, who gave him an ultimatum--a relationship with drugs or a relationship with her. Odom managed to stay for the entire 30 days of the program, and he left with a newfound knowledge of ways drugs affect the human brain. He said of the experience:
It sounds like Lamar Odom is on his way to a healthy place. Not everyone who hits rock bottom can survive it; and, to be fair, Odom almost didn't. But, as a famous author once explained, rock bottom can become the solid foundation upon which a person rebuilds a life. We hope Odom is looking forward to what comes next, and we send him tons of positive wishes on his journey.
Your Daily Blend of Entertainment News
Thank you for signing up to CinemaBlend. You will receive a verification email shortly.
There was a problem. Please refresh the page and try again.