Scott Disick May Have An Alcohol Problem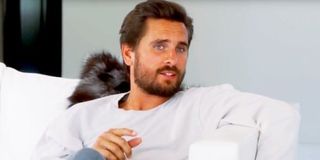 Reportedly, Scott Disick is having a tough time. Friends of the 33-year-old reality television personality evidently feel concerned about his wellness, especially regarding how much alcohol he drinks. Here is what appears to be happening behind the scenes of Keeping Up with the Kardashians.
Scott Disick, who previously sought treatment for addiction, allegedly has been imbibing heavily after discovering his former partner, fellow reality television personality Kourtney Kardashian, is in a new relationship. Kardashian is seeing Younes Bendjima, a 23-year-old model. Disick is spending time with 19-year-old model Ella Ross, so says TMZ. Still, as evidenced by Keeping Up with the Kardashians, Disick has been trying to get right in the eyes of Kourtney Kardashian, the mother of his three children.
Scott Disick and Kourtney Kardashian broke up in 2015 after weathering years in a rocky relationship. Back then, pictures surfaced showing Disick with another woman. For Kardashian, the pictures were the straw that broke the camel's back. The couple split but appeared to remain amicable. At the time, Disick continued to participate in various family functions, but he was absent from other outings, such as Kardashian's birthday vacation in Iceland. From the sounds of it, Kardashian urged her former partner to get sober, which gave Disick hope for a reunion. Disick seemingly worked to clean up his act. Unfortunately, rumors suggest Disick has now relapsed and fallen into an alcohol-fueled slump upon hearing Kardashian met another man.
This isn't the only big problem we've heard of recently. Scott Disick caused more trouble by bringing a date to a recent family event with the Kardashians. A preview for an upcoming episode of Keeping up with the Kardashians gave fans a glimpse into what happened. Supposedly, the famous family members stood up to him and called him out for his poor decisions. At one point, Kourtney Kardashian's sister, Khloe Kardashian, shouted at Disick and poured a glass of water on him. So, it sounds like tensions are high. There were reports Kris Jenner was going to produce a reality television show about flipping homes with Disick as the host. Who knows what will happen with that opportunity if the rumors are true and he doesn't have his act together?
People close to Scott Disick purportedly say he should receive treatment again, and they indicate rehabilitation could put him on a path to rekindling his relationship with Kourtney Kardashian. But when someone has a drinking problem, the order of priority is not fixing a former romantic relationship. It starts with sobriety and wellness. Sure, fixing a broken romance sounds nice, but the health of the sick person takes precedent. Sobriety comes first.
Here's hoping Scott Disick finds support if there is a problem. If Disick needs help, perhaps he could reach out to Lamar Odom, who recently revealed he made it out from under the grip of addiction. Even fellow reality television personality Mike Sorrentino of Jersey Shore fame could be a good person to call, as he shared his sobriety journey in recent times. If it's true, it would be good if Disick could turn this supposed situation around for the sake of his health and the well-being of his family.
Your Daily Blend of Entertainment News