One Cosby Show Kid Showed Up To Support Bill Cosby At His Trial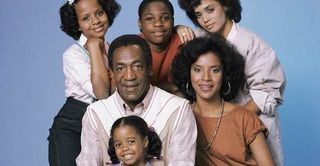 Bill Cosby appeared in a Pennsylvania court on the morning of Monday, June 5. The 79-year-old former comedian faces three counts of indecent assault for purportedly assaulting a woman after drugging her in 2004. The case is but one in a sea of allegations against Cosby. In recent years, more than 50 women have come forward to allege he assaulted them. The accusations against Cosby continue to bewilder and upset many of his past supporters. However, not everyone has cast aside the actor. In fact, Cosby entered the courthouse with an unexpected advocate on his arm: Keshia Knight Pulliam, the actress who played Rudy Huxtable, the daughter of Bill Cosby's character, on The Cosby Show.
Keshia Knight Pulliam and her former television dad entered the court looking optimistic. They laughed and smiled from time to time despite the serious, somber mood of the moment. They avoided questions from reporters and seemed to focus on keeping their arrival at the courthouse as comfortable as possible under the circumstances. Later, Bill Cosby--or the person who manages his Twitter account--posted the following photo of him with Knight Pulliam together at the courthouse:
It is not the first time Keshia Knight Pulliam has shown support for Bill Cosby. In January 2016, the actress reportedly referred to the onslaught of accusations against Cosby as "an unfortunate situation," but she steered clear of adding too much opinion by stating she was not there on the night the alleged incidents occurred, so she could not know the truth. Then, in an episode of Knight Pulliam's podcast, Kandidly Keshia, the actress again tackled the subject of the accusations against Cosby on her podcast when her guest, Amber Rose, expressed dismay about people sticking up for him. Keshia Knight Pulliam suggested she did not think Cosby to be guilty because the reports did not align with the person whom she had known. Knight Pulliam also indicated she continued to have love for Cosby and reminded listeners,
So far, there is little news about how the case is going. There is speculation Bill Cosby's legal team, led by defense attorney Brian J. McMonagle, might attempt to put a dent in the integrity of the victim to sway the jury. At the same time, some people assume Kevin R. Steele, who leads the prosecution, might appeal to the emotions of the jurors, so says TMZ. Camille Cosby, Bill Cosby's wife of 53 years, was not present with her husband and Knight Pulliam, but she might attend other proceedings. We'll have to wait and see if any of Bill Cosby's other former acting partners might show support for Bill Cosby by joining him at the courthouse as Keshia Knight Pulliam did. Stay tuned.
Your Daily Blend of Entertainment News
Your Daily Blend of Entertainment News
Thank you for signing up to CinemaBlend. You will receive a verification email shortly.
There was a problem. Please refresh the page and try again.