Demi Moore Lost Her Two Front Teeth Due To Stress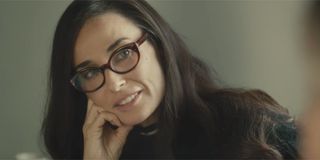 Demi Moore has a dazzling Hollywood smile--most days. However, the 54-year-old actress recently had an issue with her pearly whites. In fact, she lost her two front teeth. In a recent sit-down interview with Jimmy Fallon, Moore opened up about the situation and traced the root of the problem to stress. The movie star, who had both of her teeth fixed for the show, revealed,
When Demi Moore paid a visit to The Tonight Show, Jimmy Fallon brought up the subject of Moore's missing teeth. He said Moore had sent the show "the most insane" picture he had ever seen and showed the snapshot. In the photo, Moore appeared not to have one of her teeth, but she clarified she had, in fact, lost both of her front teeth, not just one. Moore made light of the situation and said it felt like the warranty was up on her teeth. She praised people in the field of dentistry and said,
Demi Moore also said her children--28-year-old Rumer, 25-year-old Scout, and 23-year-Tallulah--thought her toothless look made her seem "more vulnerable and more human." According to Moore, they liked the way she had looked before she repaired her smile. However, if stress truly were the root of the Blind and Love Sonia actress's problem, the missing teeth are no laughing matter.
In recent times, Demi Moore has faced some personal setbacks that may have given her reasons to feel stress. In July of 2015, a 21-year-old man drowned at a party the caretaker of Moore's home threw at her house in Beverly Hills. The movie star was not home at the time of the party or the man's death, but the family members of the deceased added her name to a lawsuit about the matter and said she should bear some responsibility for the death because it happened on her property. Moreover, the family members asserted Moore's backyard had lighting problems and trip hazards that possibly contributed to the young man's accident. It is unclear how much money the family sought in damages, but certainly, this stressful situation added to any of the stress the actress may have been feeling in her personal life.
Still, Demi Moore's lighthearted approach to her toothless smile made us smile, too. Hopefully, the matters causing her stress resolve soon.
Your Daily Blend of Entertainment News