Why Motherhood Can Be Lonely, According To Kate Middleton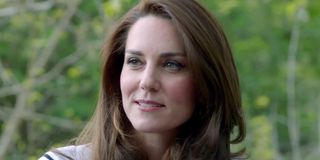 Although we enjoy news about the royal family's relationships and upcoming event plans, we love the recent stories about Prince William, Princess Catherine (i.e. Kate Middleton), and Prince Harry working to raise awareness of mental health concerns through their campaign called Heads Together. As part of the campaign, Kate Middleton paid a visit to an audience of high school students at the Global Academy school in Hayes, near London, to hold a discussion about mental health and motherhood. During the discourse, the Duchess of Cambridge got personal, sharing insights with two mothers who had talked about loneliness. Check out what the potential future queen had to say:
Kate Middleton is the mother of three-year-old Prince George and two-year-old Princess Charlotte, so she surely knows a thing or two about the pressures of motherhood. In addition to expressing the candid confession, Kate Middleton urged parents to spend quality time playing with children who have not yet developed language skills. As ABC explained, Middleton advised parents to try to remain aware of mental health issues in their children at every age. She also thanked Prince Harry for revealing that he sought therapy to deal with emotions that almost caused him to break down various times in the two decades since the tragic passing of his mother, Princess Diana.
The Heads Together campaign culminated in the London Marathon on Sunday, April 23, when 700 runners participated in support of raising awareness about mental health issues. The royal trio showed up to support the runners, and they even gave a pep talk before the big race.
The year-long campaign took the royal trio on the road to make mental health a priority and end the stigma of seeking help for mental health concerns. The campaign made headlines earlier in April when Prince William and Lady Gaga conferenced via an online video chat to talk about mental health and post-traumatic stress disorder (PTSD). In another video from the campaign, Kate Middleton detailed her observations of the challenges of parenthood. She indicated that nothing could have prepared her for the changes she felt after having children--in particular, her first child. Middleton discussed the trauma that her husband and brother-in-law experienced with the death of their mom, and she commended them for their ability to share their feelings in the Heads Together campaign.
It is crucial for people to open the doors of discussion about emotional and mental health. The work the royal trio is doing is phenomenal and should have a positive impact on many people for years to come. Let's continue the conversation and end the stigmas surrounding mental health.
Your Daily Blend of Entertainment News
Thank you for signing up to CinemaBlend. You will receive a verification email shortly.
There was a problem. Please refresh the page and try again.