Check Out Mary-Kate And Ashley Olsen Appearing In Vintage Fashion For Friend's Wedding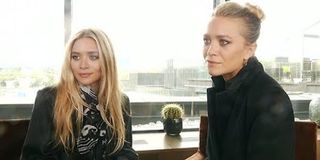 Mary-Kate and Ashley Olsen have long brought bohemian glamour to the red carpet. Recently, they brought their iconic sense of style to the wedding of Cassie Coane, the creative director of the luxury watch brand Gomelsky. The fashion-forward twins joined the ranks of other bridesmaids at the event, and like others in the bridal party, the former Full House stars used florals in their wedding outfits. The Olsens showed off their fashion prowess by wearing couture cocktail dresses that managed to stand out from the pack without overshadowing the bride's gorgeous white gown. Check out a photo here:
In the wedding day photo, which got posted to Instagram, you can see that Ashley Olsen lined up just behind the bride while her sister stood on the side of the steps to show off her entire outfit. Ashley wore her hair down and parted it down the middle.
Meanwhile, Mary-Kate Olsen wore a creamy floral robe-style dress with thick kimono sleeves; in fact, her sister's cocktail dress appeared to have a similar loose-fitting sleeve effect. A padded textile created a puffy, upholstered look on the rest of Mary-Kate Olsen's outfit. MK wore green mules with a pointed toe. The shoes looked like they could have come straight from the Emerald City, but they worked perfectly with the rest of Mary-Kate Olsen's outfit. She completed the look by wearing her hair up and popping a floral hairpiece on for good measure.
For the photo on the steps, the Olsen twins stayed in the pout mode that we have learned to love. Mary-Kate and Ashley Olsen have become masters of making flat expressions fit for a leisurely painted portrait from two hundred years ago. However, they broke from the charming stoicism for a moment to offer some genuine smiles--without teeth, of course; they're not barbarians. Check out a video here:
The wedding took place at the historic Southwood estate, an estate with 86 acres on the east bank of the Hudson River. The property is centuries old and filled with gorgeous trees and gardens. So, the vintage dresses and floral theme were ideal against the backdrop of this wedding venue on a sunny summer day.
Today, Mary-Kate and Ashley Olsen live rather private lives compared to their childhoods spent in the Hollywood spotlight. Nowadays, we see the Olsen twins gallivanting with other members of high society at important fashion events, but we rarely get a glimpse of them in everyday moments like this one. In fact, they do not even have social media accounts, so it is special when they end up in their friends' photos, as they did at this wedding.
Of course, the Olsen twins began working at the ripe old age of one. Reportedly, they accumulated billions of dollars by the time they were adults thanks to numerous business ventures and wise investments. So, in their twenties, the twins left Hollywood to focus on their preferred creative outlet: high fashion. No wonder they know how to pull off kimono sleeves and a robe-dress at a wedding.
Your Daily Blend of Entertainment News
Thank you for signing up to CinemaBlend. You will receive a verification email shortly.
There was a problem. Please refresh the page and try again.