Modern Family's Eric Stonestreet Once Worked Security For Garth Brooks, See The Evidence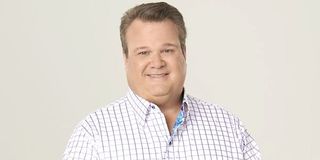 Emmy Award-winning actor Eric Stonestreet is hilarious as Cameron Tucker on Modern Family. But years before the 45-year-old star's paycheck came from ABC, he had a job as Garth Brooks' bodyguard. Apparently, Stonestreet once worked a gig for Brooks at the height of the country superstar's early career. Then, the other day, Stonestreet had a chance to see his former employer in concert. Stonestreet even met Brooks backstage and got autographs on photos from that night in the 90s. The actor shared the images on social media to prove that it all happened. Check out the gallery here:
So, back in the 90s, Garth Brooks had "Friends in Low Places," and now Eric Stonestreet has friends in high places. From the looks of the video of Stonestreet cheering, the recent show at The Forum in Inglewood, California, was a great one. That long, long yell had me in tears laughing.
How about those signed pictures? A lot seems to be happening in the one where Garth Brooks is reaching out his arm above Eric Stonestreet. The expression on the actor's face is priceless. It looks like Stonestreet knew he was supposed to be in bodyguard mode but felt star-struck because he was so close to his favorite country musician.
On Modern Family, Eric Stonestreet's character loves clowning around as Fizbo the Clown. Obviously, Stonestreet himself is quite the comedian in real life, too. Did you catch where he tossed some comedy into the caption of the Instagram gallery? He teased about Garth Brooks and wrote,
Imagine Eric Stonestreet saying that and Garth Brooks responding with something like, "You're welcome and thank you?" Actually, Brooks left a short and sweet message on the photo of Stonestreet hard at work (and in shock). Brooks even referred to Eric Stonestreet as a "pal." Then on the second photo, Brooks wrote, "Here's to circles," as a comment on how cool it was that Stonestreet had, in a way, come full circle from watching the stars to being one.
After all, Garth Brooks and Eric Stonestreet are now on similar levels of success in their respective careers. The fact that they both are big stars today makes this picture extra special because it shows Stonestreet looks back with fondness for that night in Manhattan, Kansas when he got to be Brooks' bodyguard for a moment. Plus, it suggests Brooks is still as humble as ever.
It warms our heart when celebrities are friendly with one another. Too often we hear about celebrities having a feud. This interaction goes to show that the best stars remember the people who helped them along the way.
Your Daily Blend of Entertainment News
Thank you for signing up to CinemaBlend. You will receive a verification email shortly.
There was a problem. Please refresh the page and try again.