How Kyra Sedgwick Felt When She Found Out She Was Related To Husband Kevin Bacon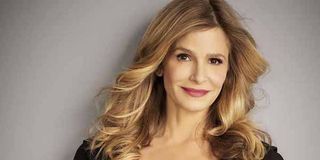 Kevin Bacon and Kyra Sedgwick are a married couple who has weathered some storms in Hollywood. At the same time, while appearing on PBS' popular series Finding Your Roots, research revealed the distance between Bacon's and Sedgwick's family trees is not super wide, and the stars are, in fact, distant cousins. The findings may seem odd, but Sedgwick was not shocked. In a recent interview, the 51-year-old actress said she managed to guess the outcome of a heritage assessment about herself and her husband before she heard the details. Sedgwick joked,
While on a panel at the TCA summer press tour, Kyra Sedgwick took a question about the data from her recent episode of Finding Your Roots appearance. Sedgwick was on the panel to talk about her new ABC drama Ten Days in the Valley, but she answered candidly about her PBS experience.
The familial link between Kevin Bacon and Kyra Sedgwick came to light during Finding Your Roots when the show's host Henry Louis Gates, Jr., used genealogical research to explore Bacon's and Sedgwick's family trees. In the past, the show has uncovered other coincidental family ties, such as Larry David and Bernie Sanders, whom David played on Saturday Night Live.
According to The Wrap, Kyra Sedgwick expected the result when they asked her to participate in the show. After all, she and Kevin Bacon have been married for almost 20 years, and they have adult kids together. Combine those aspects with the fact people still play six degrees of separation from Kevin Bacon, and the surprising segment virtually writes itself. She said,
Kevin Bacon and Kyra Sedgwick may, in fact, be kissing cousins; however, they are step-cousins. Therefore, the space between them is pretty big, and they're technically in the safety zone. Still, the news that you and your longtime spouse have a familial bond outside of marriage sounds like a Deliverance nightmare from American Horror Story: Roanoke. Whether or not Kyra Sedgwick had "to act surprised" on camera does not necessarily mean she wasn't surprised at home.
Kyra Sedgwick's extended family features other famous people, such as the late American actress and model Edie Sedgwick, whom Sienna Miller portrayed in Factory Girl. Edie Sedgwick was Kyra Sedgwick's first cousin once removed. Furthermore, actor Robert Sedgwick is her brother, and six-time Grammy-nominated guitarist Mike Stern is her half-brother. So, the news that Kyra Sedgwick is the step-cousin of Kevin Bacon would not be so jarring if they were not married. Regardless, it should not affect the way you play Six Degrees of Kevin Bacon.
Your Daily Blend of Entertainment News
Your Daily Blend of Entertainment News
Thank you for signing up to CinemaBlend. You will receive a verification email shortly.
There was a problem. Please refresh the page and try again.