Here Comes Honey Boo Boo's Pumpkin Is Pregnant At 17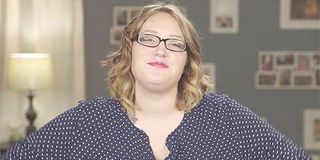 Lauryn "Pumpkin" Thompson of Here Comes Honey Boo Boo fame recently announced she is pregnant with her first child. The 17-year-old reality television personality took to social media to make the announcement. In the post, Thompson shared several images, including an ultrasound photo, and she wrote,
Lauryn Thompson shared the message in a Facebook post. Afterward, Thompson revealed additional information in an interview on WeTV. She indicated the world should brace itself now that a little version of her is on the way. She said,
In the interview, Lauryn Thompson said she feels excited to become a new mom; however, she expressed hating pregnancy. She acknowledged the fact there will be challenges to face along the way. Furthermore, Thompson indicated she feels a sense of apprehension about the birthing process. She joked,
The news of the pregnancy arrives several months after Lauryn Thompson and her 19-year-old boyfriend, Joshua Efird, got engaged in December of last year after dating for nine months. Thompson was 16 years old at the time.
When Lauryn Thompson and Joshua Efird got engaged last year, Thompson said she planned to wait to marry until she was 18 years old. Moreover, Thompson and her fiancé stated they intended not to have sex until after they were married.
This news joins a list of other shocking headlines about the Here Comes Honey Boo Boo family in recent times. For example, June "Mama June" Shannon, the matriarch of the family, and Lauryn Thompson both recently revealed they feel attraction for both men and women.
Furthermore, June Shannon underwent surgery and achieved dramatic weight loss results over the course of several months. WeTV documented Shannon's experience on the reality television show From Not to Hot, which showed her losing the weight in advance of her ex's wedding. She dropped from 460 pounds to 132 pounds by the end of the show.
On the weight loss show, Lauryn Thompson and her 12-year-old sister, Alana "Honey Boo Boo" Thompson, sometimes participated with June Shannon while she exercised and dieted. Now there are rumors Alana Thompson might get a weight loss show of her own. Perhaps Lauryn Thompson will document her pregnancy in the family's next project, whatever that might be.
Your Daily Blend of Entertainment News
Thank you for signing up to CinemaBlend. You will receive a verification email shortly.
There was a problem. Please refresh the page and try again.