Playboy Icon Hugh Hefner Dead At Age 91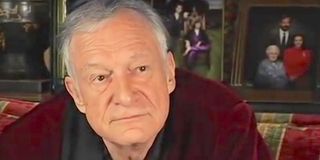 Hugh Hefner, the founder of the best-selling men's lifestyle magazine Playboy, has died at 91 years old. The businessman created the lifestyle and entertainment magazine in 1951 and managed it into a global brand. Cooper Hefner, Hugh Hefner's son and the Chief Creative Officer of Playboy Enterprises, issued a statement about the death of his father and said,
While People shared the kind words by Cooper Hefner, Playboy also tweeted out an announcement about Hugh Hefner's passing. Take a look:
As a child growing up in Chicago, Hugh Hefner enjoyed writing comic books and horror stories, and in high school, he created a comic strip called School Daze. Afterward, Hefner enlisted as an infantry clerk in World War II. During the war, he continued his love of writing by contributing comic strips to the army gazette. Later, Hefner completed a bachelor of psychology with a double minor in creative writing and arts from the University of Illinois. By 1951, he had begun working as a copywriter for the men's lifestyle magazine Esquire. He reportedly quit because the magazine denied him a five dollar raise.
Afterward, Hugh Hefner decided to launch a new publication, so he raised about $9,000 from 45 investors, including his mom. Hefner first called his new magazine Stag Party but then changed the name to Playboy. The first issue featured nude pictures of Marilyn Monroe, and it sold more than 50,000 copies at $0.50. Miles Davis was the first person interviewed in Playboy in 1962. A year later, Hefner got arrested for "promoting obscenity" when Playboy published nude photos of Jane Mansfield, but the jury in the trial could not reach a verdict, so all charges were dropped. Hefner continued his work on the magazine and became a trailblazer in the publishing industry by thinking up inventive ideas for Playboy, including a Braille edition that made Playboy, of all magazines, the first men's lifestyle publication for the blind.
While nude pictures were Hugh Hefner's foot in the door for Playboy, the entrepreneur strived to provide writing of value in the magazine and often invited world-renowned writers to write for the publication. For example, Hefner had writers like Hunter S. Thompson, John Updike, Ian Fleming, Joseph Heller, Chuck Palahniuk, Gabriel Garcia Marquez, Margaret Atwood, P. G. Wodehouse, Jack Kerouac, Haruki Murakami, and Kurt Vonnegut contribute works to Playboy over the years.
In fact, Hugh Hefner decided to stop showing nude images of women in Playboy and focus on the articles and interviews for a year in 2016, and sales of the magazine reportedly jumped about 28 percent. However, Playboy returned to nude images this year.
Hugh Hefner dabbled in monogamous and polyamorous relationships with dozens of women over the years. In 2012, he married Playmate Crystal Harris, whom he had dated off-and-on since 2008. Before that time, Hefner had relationships with many other Playmates. For example, his polyamorous relationship with Holly Madison, Bridget Marquardt, Kendra Wilkinson was the subject of the reality television show The Girls Next Door in the early aughts. Hefner married his ex-wife, Kimberley Conrad, in 1989 and appeared to remain mostly monogamous in the marriage through the 1990s, but he began dating multiple women again by the end of the decade and officially divorced Conrad ten years later in 2010. Before Conrad, Hefner was married to his first wife, Millie Williams, from 1949 to 1959.
Romance aside, Hugh Hefner's life was still a veritable treasure trove of fun facts. For example, he earned two spots in the Guinness Book of World Records, one for having the longest career reign as Editor-in-Chief of the same magazine and another for owning the largest collection of personal scrapbooks. Also, he acquired the New Playboy Mansion in Los Angeles in 1971 for $1 million and sold it for around $200 million in 2016 on the condition that he would not move out.
Hugh Hefner is survived by his wife and four children. He left a lasting legacy on the publishing industry and American culture.
Your Daily Blend of Entertainment News